editYoshiteru  [1]

ヨシテル Yoshiteru

Debut
Manga
Volume #49, Naruto Chapter #460
Anime
Naruto Shippūden Episode #202
Appears in
Anime, Manga
Personal
Gender
Male
Age
Status
Presumed Deceased
Classification
Affiliation
Yoshiteru (ヨシテル, Yoshiteru) is a samurai of the Land of Iron.
Appearance
Yoshiteru wears the standard samurai attire. To show his rank, his helmet is equipped with horns.
Abilities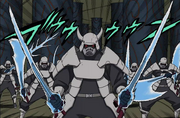 As a high-ranking officer of the samurai, Yoshiteru is presumably an experienced fighter and proficient in kenjutsu. To boost the reach and the cutting ability of his sword, he can channel chakra through it. Furthermore, he can use said chakra for a long-range attack.
Part II
Five Kage Summit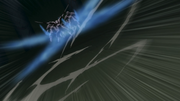 Under orders from Urakaku, Yoshiteru leads a squad to seek out and capture the infiltrating Sasuke Uchiha. After the latter revealed himself, Yoshiteru angrily launches an attack, which is repelled by Sasuke's sword. Ignoring Sasuke's warnings, Yoshiteru rushes towards him to bring him down but is instead quickly cut down himself.
Trivia
Yoshiteru is likely named after the 13th shogun of the Ashikaga shogunate, Ashikaga Yoshiteru.
References
↑

Fourth Databook, page 212