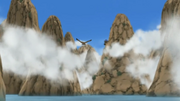 Located somewhere within the Land of Lightning's many mountain ranges is a valley called the Valley of Clouds and Lightning (雲雷峡, Unraikyō).[1] It's a water-filled valley covered in clouds or fog. Within this valley is a dark cavern where Killer B, the jinchūriki of the Eight-Tails, trains.
After swearing loyalty to the First Raikage, the Yotsuki clan were given land in this valley.[2] The valley has been greatly devastated due to Killer B launching a Tailed Beast Ball within the area during his fight against Taka.
References
Edit
↑ Naruto chapter 408, page 5
↑

Fourth Databook, page 17
Ad blocker interference detected!
Wikia is a free-to-use site that makes money from advertising. We have a modified experience for viewers using ad blockers

Wikia is not accessible if you've made further modifications. Remove the custom ad blocker rule(s) and the page will load as expected.