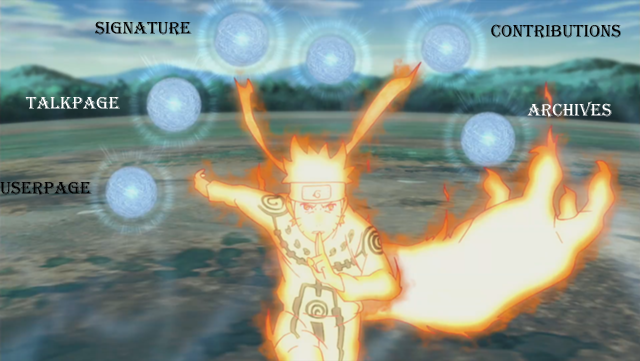 Welcome
Hi! Please remember to sign your messages with ~~~~
Also, do add a header whenever starting a new topic message!
Infoboxes Edit
Your infoboxes here, are split into different categories. As ours are placed in a full fledge single page, being found here; http://narutofanon.wikia.com/wiki/Template:Infobox/Naruto/Character?action=edit . Is there any chance you could help, we have unlocked the page as well.
18px Now, fall under my ultimate genjutsu 18px 01:14, June 27, 2014 (UTC)
Ours are exactly the same way, Sigma. ~ Ten Tailed Fox 02:05, June 27, 2014 (UTC)

Yours are more like the way we had them 6 months ago or so..
They underwent a major overhaul recently. The major change being Template:SemanticInputParser. But you probably wouldn't want the entire thing to complicate things... --~UltimateSupreme 13:32, June 27, 2014 (UTC)
Bot work Edit
Hi UltimateSupreme. Is it possible you can run your bot to remove all the unnecessary references of Naruto manga around the wiki? This appears on the disambiguation pages, but also in every reference tag. Considering this is the Narutopedia and it's only one manga, it is quite redundant to state "Naruto": it would make sense if it was split into two series, like the anime, but it's not. Thanks. --SuperSajuuk Talk Page | My Image Uploads | Tabber Code | Channel 19:43, July 3, 2014 (UTC)
Also I have another bot work that needed to be done. Can you change the voice actress from "Mariko Tōnai" to "Mariko Higashiuchi" in the wiki? Since it's been confirmed lately in her webpage. Thanks so much —Shakhmoot

(Talk) 09:39, July 4, 2014 (UTC)
Custodian Edit
I sent this originally to Dantman, but he's asked me to contact other sysops who delete the redirects left behind from the images that I move to other names for an answer. To save time, I'll simply quote what I wrote to Dantman:
One of the main things that I do on the wiki is to move images to new file names where appropriate. The problem is that this leaves redirects that then need to be tagged for deletion and that could take a while. I believe Wikia has a custodian flag that provides the ability for a user to suppress redirect creation so I'm asking if it's possible that I could be given the "custodian" flag to suppress redirects. Thanks.
Please reply when possible. --
SuperSajuuk
Talk Page | My Image Uploads | Tabber Code | Channel
19:31, July 10, 2014 (UTC)
More Hiding Edit
Han needs to be hidden at Boil Release. It seems whatever new value just gets stuck showing up now. Omnibender - Talk - Contributions 13:42, July 12, 2014 (UTC)
Hello. I took a look at the kekkei genkai page and I noticed that the Rinnegan section ended up taking about half of the page, because the section tags apparently don't work as they should. May you take a look at it?--
JOA20 20:02, July 12, 2014 (UTC)