HELLER~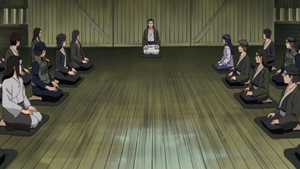 and welcome to my userpage!
Leave me a message on my talkpage if you need to contact me and I'll get back to you as soon as I can!

About me
Yosh... Heller! I'm Cerez365 (pronounced kai•res')yes that's how it's pronounced no ask any more questions >.<! also known as:
"The Herald who called the end of the Great Image War (insertawesomekanjihere, andawesomeromaji)"

"The Herald named Harold?" No, my name isn't Harold lol '~'
I've loved Naruto ever since a friend showed me Rock Lee fighting Gaara. I used to lurk here for a while as an anon before I became an official editor (I'll show you some of my anon derpage some other time xD). I love the manga unconditionally, but the anime, annoys me greatly when they get stuff like a character's appearance wrong. I like the Hyūga clan... a lot because you know, they're awesome and stuff. That is all. One day, the Byakugan will rise to power, just wait e_e! Some people find it odd but I find the more trivial things in the series, the most interesting, that's why I tend to keep an eye on all the "lesser articles" and minor characters~
I'd also like to say to my fellow red-linkers, I'm sorry I betrayed you all and created a user page T_T but... in my heart, I'll always always always be a red linker! lol
Editing

I'm more of an all-purpose editor, I do a bit of everything on this wikia (images, summaries, overhauls, clean-up/follow-up edits, referencing etc.) the stuff that flies over my head, I leave up to more capable hands. I believe in making the wording of articles and explanations of stuff on the wikia as simple as possible so that everyone will be able to follow what the articles are saying. The wikia reaches a very wide viewer-base with varying ages and as such, I believe that persons shouldn't have to come here with the wikia in one tab and a dictionary open in the other.
Stuff you might need

If you're just starting out here, there are a few things you should read first, and, if there's anything you don't understand, feel free to ask me or anyone that looks like they know what they're doing.
All policies can be found here. Please read them over and feel free to ask for assistance at any time.
A list of Narutopedia Administrators if you need to speak with one. From there you can also see a list of other category of users as well.
Apart from these policies and others which you can navigate through, there's also a culture on the wikia, so when someone tells you that "that is not done here" accept that it's not done here and don't think it's a conspiracy against you and your unborn foetus. Lurk Moar helps a great deal here.
My page(s)

Well I only have one page outside of this one: User:Cerez365/Clansmen. It's about a few of the shinobi from Konohagakure clans that have appeared in the series (I'm a bit obsessed with 'em) You can also find the information reflected on the main clan person's articles.
Other interesting pages
Besides mine of course (v_v) there are a few other pages you might want to browse. There's:
My images
Lolno. That's wayyy to much work to maintain and stuff.
User boxes
I always wanted to use these lol