Ugai (ウガイ, Ugai) is a medical-nin of Konohagakure.
Appearance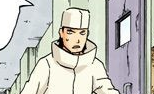 The manga depicts him as a young man with dark-coloured hair wearing the standard uniform of the hospital medical ninja. In the anime, however, he is given a much older appearance with a beard and glasses.
Abilities
As a medical-nin Ugai has basic knowledge of medical treatments and ninjutsu, as well as good chakra control in general.
Part I
Sasuke Retrieval Arc
He is an inexperienced, yet knowledgeable, medical-nin. He helped Might Guy find Tsunade in the Konoha Hospital. He then looks on in shock when Migaki arrives suddenly, telling Tsunade that something terrible had happen.
References
↑

Second Databook, page 168