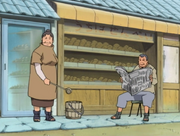 The Uchiha Senbei (うちはせんべい) was a shop affiliated with the Uchiha clan that sold senbei within Konohagakure. The closely guarded secret recipe of the senbei gave the shop its fame. It was owned by Teyaki Uchiha and his wife Uruchi, until they both were killed by Itachi. The shop was abandoned after its owners' deaths. Sasuke would sometimes come here after his day at the Academy to get food.
Ad blocker interference detected!
Wikia is a free-to-use site that makes money from advertising. We have a modified experience for viewers using ad blockers

Wikia is not accessible if you've made further modifications. Remove the custom ad blocker rule(s) and the page will load as expected.