This is the article on the actual bridge. For the episode with the same name, head to The Tenchi Bridge.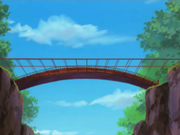 The Tenchi Bridge (天地橋, Tenchi-kyō, Literally meaning: Heaven and Earth Bridge) was located somewhere in Kusagakure, spanning a deep ravine. It was here that Team Kakashi, led by Yamato, was to meet up with one of Akatsuki-member Sasori's spies, Kabuto Yakushi. The mission failed and led to Naruto Uzumaki using his four-tailed form to fight Kabuto's real master, Orochimaru. The bridge was destroyed during this fight.
Trivia
Ad blocker interference detected!
Wikia is a free-to-use site that makes money from advertising. We have a modified experience for viewers using ad blockers

Wikia is not accessible if you've made further modifications. Remove the custom ad blocker rule(s) and the page will load as expected.