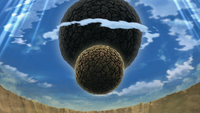 Naruto
wakes up and is told by
Shikamaru
that
Sasuke
is nowhere to be found, and that the
Anbu
they were fighting retreated. While
Tsunade
updates
Minato
on the shinobi Sasuke attacked when he left the village,
Shizune
arrives with news someone infiltrated the village.
Pain
arrives and talks to Tsunade, vowing to cause the village pain. Pain attacks the village with a
gigantic Chibaku Tensei
. Naruto and the others arrive in the morning to find a crater where
Konohagakure
was supposed to be, with the Chibaku Tensei floating above it.
Read more...