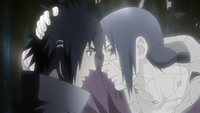 Back at the front lines, the five
Kage
struggle to hold their own against
Madara
's
Susanoo
-clad
wood clones
. Despite these great odds,
Ōnoki
rallies them to fight, noting that they need to fulfil a task at which cannot be failed. Madara realises that Ōnoki is the problem and that he must break his
will
. With that, the Kage go on the offensive against Madara's clones once more. The situation soon takes a turn for the worst as Madara in turn responded with his full power by activating his final Susanoo and proceeds to using its
sword
to attack them.
Read more...