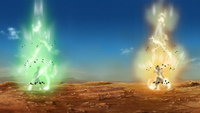 Shira
accepts
Lee
's offer to fight him one on one. The two begin their battle, and as they exchange fierce attacks, both seem to be equally on par with one another. Observing the battle,
Neji
notes that Lee will sustain more damage due to Shira having a much superior physique. Eventually noticing that he is at a disadvantage, Lee attempts to open the
Eight Gates
, but finds that he cannot; Shira having blocked his
tenketsu
, therefore stopping his
chakra
flow.
Read more...