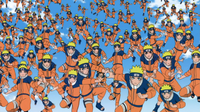 Tsunade
's reading is interrupted when her candle burns out.
Shizune
replaces it and asks her not to overdo it.
Jiraiya
battles the four-tailed
Naruto
, who destroys Jiraiya's chakra-suppressing seal. Jiraiya manages to
immobilise
Naruto. Jiraiya thinks back to
Gamamaru
's prophecy.
Sasuke
thinks back to being unfavourably compared to
Itachi
by their father, and begins fighting
Sasori
's puppets.
Read more...