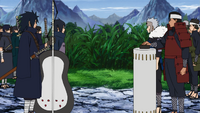 As
Hashirama
laments on betraying his friend,
Butsuma
tells Hashirama he has one of two choices: either gather intelligence on the young man and report to them or else be seen as a traitor for his actions. Hashirama begrudgingly accepts his mission but he is intent on helping
Madara
. The next time they meet, Hashirama and Madara exchange their stones telling each other to escape. Before they have a chance to leave, both their fathers and remaining brothers respectively prepare and engage in battle. Knowing that their power was more or less even, in order to gain the upper-hand, Butsuma and
Tajima
decided to target
Izuna
and
Tobirama
respectively, hoping to use the shock of a parent losing a child before their very eyes as a method to gain an advantage. Their efforts are thwarted however by Hashirama and Madara who both see the attack on their brothers as an unforgivable act. Madara declares that they had reached an impasse, noting that their dreams die there.
Read more...