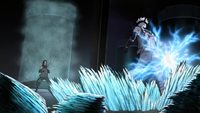 Danzō
orders
Kinoe
and
another member
of
Root
to retrieve
Kakashi
's
Sharingan
so that he can replace his own right eye which is slowly losing its light. At the same time,
Yūgao
informs Kakashi who is at the
Konoha Cemetery
that the
Third Hokage
has summoned him. Once there, Kakashi is informed that one of
Orochimaru
's hideouts had been found and he will be sent to investigate it.
Read more...