This is a team from Konohagakure, led by Ebisu. Its members consists of Konohamaru Sarutobi, Udon and Moegi. It is formed during the time-skip between Part I and Part II.
Before Ebisu became the leader of the group, it was led by Konohamaru, under the name Konohamaru Army Corps (木ノ葉丸軍団, Konohamaru Gundan).[1]
Known Missions
Edit
Find Lost Pet (Anime only)
Rank: D-rank
Status: Success
Like Team 7, Team Ebisu is hired to find Tora the cat. Like Team 7, they request a C-rank mission afterwards. Unlike Team 7, however, they are denied and end up being sent to find Tora six more times.[2]
Save Citizens (Anime only)
Rank: A-rank
Status: Success
During the anime's arc of the Twelve Guardian Ninja, Team Ebisu was to evacuate the Konoha villagers during Furido's assault.[3]
Help Rebuilding Village (Anime only)
Rank: D-rank
Status: Success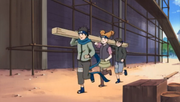 After Furido is defeated, Team Ebisu was ordered to help rebuild the village by transporting materials.[4]
References
Edit
Ad blocker interference detected!
Wikia is a free-to-use site that makes money from advertising. We have a modified experience for viewers using ad blockers

Wikia is not accessible if you've made further modifications. Remove the custom ad blocker rule(s) and the page will load as expected.