A God Tree (神樹, Shinju, English TV: Divine Tree) is a type of gigantic tree which is central to the Eye of the Moon Plan.
Background
A God Tree seed landed on Earth from a meteorite several millennia ago in the anime,[1] which grew by absorbing the blood soaked into the ground from countless battles.[2]
In the anime, it was believed that the God Tree nourished the land and helped it thrive, while in truth, as revealed by Gamamaru, the God Tree was slowly killing the land and its people, by draining natural energy from them.
Due to its massive size and the conditions under which it is grown, the God Tree is revered by some cultures; humans used to worship the God Tree of Earth as a sacred pillar that extended into the heavens and remained ambivalent to all conflict.[3] In the anime, it was known that anyone who approached the tree was consumed by a demon spirit and died like a withered branch.[4]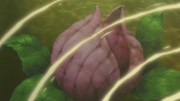 Every thousand years, a God Tree produces a "chakra fruit" (チャクラの実, Chakura no Mi), which human legend holds are never to be touched.[3] Members of the Ōtsutsuki clan travel through dimensions in search of God Trees so that they can consume these fruit and gain their powerful chakra for themselves.[2] Some Ōtsutsuki, such as Momoshiki and Kinshiki, harvest the God Tree's fruit until it and its respective planet die, at which point they go looking for a new one.[5] Kaguya, after consuming the fruit of Earth's God Tree, chose to settle on the planet and use the power she gained in order to single-handedly rule over the human populations.[3]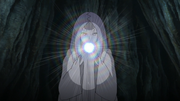 As a measure to keep the peace, Kaguya enslaved part of the human population with the Infinite Tsukuyomi and bound those affected to the God Tree, assimilating them with its life force and gradually turning them into White Zetsu.[6] When Kaguya's sons, Hagoromo and Hamura, were born with chakra of their own, she merged with the Earth's God Tree in order to take the chakra back, thus becoming a monster called the Ten-Tails.[7] If all of the chakra in the world is united with the God Tree once more, it would be able to bear a new chakra fruit.[8]
Trivia
References
Ad blocker interference detected!
Wikia is a free-to-use site that makes money from advertising. We have a modified experience for viewers using ad blockers

Wikia is not accessible if you've made further modifications. Remove the custom ad blocker rule(s) and the page will load as expected.