This is the article on the member of the Uchiha clan. If you are looking for the article on the member of the Sarutobi clan, head to Sasuke Sarutobi.
editSasuke Uchiha [1][2][3][4][5][6]
うちはサスケ Uchiha Sasuke

Debut
Manga
Volume #1, Naruto Chapter #3
Anime
Naruto Episode #1
Novel
Naruto Jinraiden: The Day the Wolf Howled
Movie
Naruto the Movie: Ninja Clash in the Land of Snow
Game
Naruto: Clash of Ninja
OVA
Find the Four-Leaf Red Clover!
Appears in
Anime, Manga, Novel, Game, Movie
Voice Actors
Japanese
English
Personal
Birthdate
July 23
Gender
Male
Age
Height

Part I: 150.8 cm1.508 m
4.948 ft
59.37 in-153.2 cm1.532 m
5.026 ft
60.315 in

Part II: 168 cm1.68 m
5.512 ft
66.142 in

Blank Period: 182 cm1.82 m
5.971 ft
71.654 in

Weight

Part I: 42.2 kg93.035 lb-43.5 kg95.901 lb

Part II: 52.2 kg115.081 lb

Blood type
AB
Kekkei Genkai
Classification
Affiliation
Team
Clan
Rank
Ninja Rank
Ninja Registration
012606
Academy Grad. Age
12
Sasuke Uchiha (うちはサスケ, Uchiha Sasuke) is one of the last surviving members of Konohagakure's Uchiha clan. After his older brother, Itachi, slaughtered their clan, Sasuke made it his mission in life to avenge them. He is added to Team 7 upon becoming a ninja and, through competition with his rival and best friend, Naruto Uzumaki, Sasuke starts developing his skills. Dissatisfied with his progress, he defects from Konoha so that he can acquire the strength needed to have his revenge. His years of seeking vengeance become increasingly demanding and irrational and isolates him from others, leading him to become an international criminal. After proving instrumental in ending the Fourth Shinobi World War and being redeemed by Naruto, Sasuke decides to return to Konoha and dedicates his life to helping protect the village and its inhabitants.
Background Edit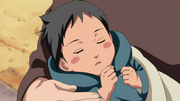 Sasuke is the second and youngest son of Mikoto and Fugaku Uchiha; they named him after Sasuke Sarutobi in the hopes that he would someday be just as strong a shinobi.[7] Sasuke grew up in the shadow of his older brother, Itachi, a natural prodigy who many in the Uchiha clan and the village expected Sasuke to match or surpass in talent. Sasuke himself adored Itachi, never passing up an opportunity to spend time with him. Although Itachi welcomed his company, letting Sasuke watch him train and taking him on adventures into the forests,[8] Itachi never helped Sasuke become a better shinobi; when asked, he would instead poke Sasuke's forehead and promise to do so some other time, which he never would. Sasuke found this annoying, but didn't allow it to blemish his high opinion of his brother.
On entering the Konoha Ninja Academy, Sasuke proved to be the standout of his class, consistently getting top grades.[9] However, he could never meet the same milestones Itachi had set, resulting in their father paying Sasuke little attention.[10] Aware of this neglect, Itachi, despite being increasingly busy, tried to stand in for their father by giving Sasuke the recognition he craved, at times even blackmailing Fugaku to spend time with Sasuke. As time went on, Itachi started becoming distant with and cold towards their family, culminating in a falling out with much of the Uchiha clan on their suspicion that he'd killed his best friend, Shisui Uchiha. Sasuke did not understand the reason for this, but he didn't mind the side-effect: his father began taking an interest in his development. Fugaku taught Sasuke how to perform the Great Fireball Technique, which he mastered in a week, beating Itachi's own time.[11] Fugaku stated his pride in Sasuke for this accomplishment, but at the same time encouraged him not to follow in Itachi's footsteps.
After a long day of training, Sasuke returned home one night to find the streets littered with the bodies of the Uchiha. He rushed home to notify his family of this Uchiha Clan Massacre, only to find Itachi standing over the bodies of their parents. Sasuke tried to solicit help and comfort from Itachi, who responded by using Tsukuyomi on him to torment him with visions of him murdering their family. Horrified by what Itachi had done, Sasuke pleaded for an explanation, to which Itachi replied that it was to test his own power. Fearful that he would be next, Sasuke tried to run. Itachi cornered him and explained that Sasuke, as he then was, would not be worth killing. Only by becoming stronger, such as by acquiring his own Mangekyō Sharingan, could he prove a worthwhile challenge to Itachi's abilities. Before leaving, Itachi encouraged Sasuke to hate him, to desire revenge, and to gain power from that. Sasuke immediately followed through, pursuing Itachi and using his newly-awakened Sharingan to attack him. The attack failed and Sasuke passed out, but not before glimpsing Itachi crying; Sasuke would forget this had happened for many years.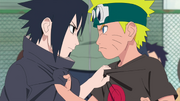 Sasuke, now one of the last surviving Uchiha, was alone. He spent the first few days after the massacre wandering his family's compound, reflecting on the people who were now gone, killed by Itachi. Sasuke decided to do what Itachi had instructed and dedicated his life to vengeance, having no other interest than bringing about Itachi's death. He threw himself into his studies at the Academy, making no efforts to form friendships and ignoring all of the girls' attempts to gain his affection. One of his classmates, Naruto Uzumaki, disliked Sasuke's cool personality and the attention he received, and developed a one-sided rivalry in his pursuit to prove himself just as good as, if not better than, Sasuke. For his part, Sasuke thought little of Naruto and was usually annoyed by his outbursts, but would, at times, secretly smile at how hard Naruto worked because of him. Ironically, for all the attention he received, Naruto was the only person among his peers who understood Sasuke due to the painful experiences he had.
Personality Edit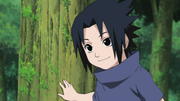 Sasuke was a happy child, eager to please and be worthy of his family name.[12] This changed after his entire family was killed by Itachi, the person he most admired in the world. He became cold toward others, unmoved by and uninterested in what they do or think of him, choosing instead to keep to himself. He stopped using honourifics like "sensei" or "sama", something considered rude in the Japanese language. His only goal in life became to take revenge for his family's deaths and, by extension, acquire the power needed for that revenge, even if it meant acquiring an external power that wasn't his own. His eyes had an even darker, more intense, and hateful stare than the ones the villagers of Konoha had when they looked at Naruto; however, Naruto was able to tell he was looking at someone else with his hateful eyes. Despite this, Naruto played a key role in helping Sasuke retain some of his former self, being happy he's the main reason Naruto is pushing himself so hard to become stronger.[13][14]
The pursuit of power, difficult enough on its own, is something that Sasuke repeatedly struggles with. Whenever he meets new people he makes an evaluation of their abilities: those he perceives to be weaker than himself he arrogantly disregards, giving them as little attention as possible so that they won't hold him back; those he perceives as stronger he fixates over and tries to surpass, especially when he believes he should be their equal. As a member of Team 7 he is repeatedly exposed to Kakashi Hatake's philosophy that there is strength in teamwork. For a time, Sasuke accepts this, experiencing it firsthand on several of Team 7's missions. He even starts becoming attached to his team-mates and starts to forget the vengeance he craved. But when he meets Itachi again in Part I and is summarily defeated, Sasuke decides the team is making him weak and choses to leave them and Konoha entirely, focusing solely on himself.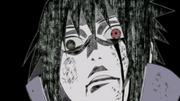 Prior to Sasuke's defection, Kakashi tries to point out the contradiction in Sasuke's viewpoint: he is driven to gain power because of the relationships he lost when his family died, yet sacrifices the family he still has (Team 7) so as to gain that power. In Part II, Sasuke tries to avoid the same "weakness" of camaraderie he made with Team 7: he acquires new team-mates, but, as in the case of Karin, tries to kill them when they impede his objectives;[15] he allies with Tobi and Akatsuki when their goals align, but leaves them without comment when he no longer needs them; he allows Orochimaru to do what he wants with him and his body so long as he becomes stronger, only to turn against Orochimaru for using him in the first place. His abandonment of all his former loyalties and his criminal acts this causes convince his former classmates that Sasuke is beyond salvation.
After his final encounter with Itachi, Sasuke is left uncertain about what course to take; Orochimaru hypothesises this indecision is due to Sasuke, for the first time, being without anybody to tell him what to do. From long contemplation, Sasuke decides that the desire for retribution that drove him for so long is the perfect solution to the world's problems: if a single individual, what Sasuke calls the "Hokage", is solely responsible for making the difficult decisions, killing and the like for the greater good, then everybody will be unified in their hatred of that individual. He volunteers himself for that responsibility and, in order to prepare himself, plans to eliminate what few friendships he still has, namely Naruto Uzumaki. But Naruto, by refusing to give up on saving Sasuke from darkness, demonstrates that their friendship is too fundamental to who Sasuke is and that it cannot nor should it be broken. On coming to terms with this, Sasuke stops fighting the many bonds he's made and ultimately chooses to die so the Curse of Hatred would die along with him. However, after further convincing from Naruto, Sasuke chose to live to find redemption rather than die.
One of Sasuke's most significant bonds is the one he has with his older brother, Itachi, who by merely being mentioned can elicit strong reactions from Sasuke's otherwise calm demeanour. Sasuke adored Itachi when he was a boy, enjoying his company above all others'. As an infant, Itachi was one of few people that Sasuke would allow to hold him without crying, to which he would immediately be happy once held by his big brother again.[16] When Itachi murdered the rest of the Uchiha clan, Sasuke was crushed not only by the loss of his family but also by what Itachi told him: that he had never loved Sasuke. Sasuke devotes years of his life to avenging their family by killing Itachi, which Itachi encourages whenever they meet. Sasuke is accordingly careful not to follow Itachi's instructions too closely, such as by not acquiring a Mangekyō Sharingan, as he doesn't want Itachi to have the satisfaction. After Itachi dies in battle with Sasuke, however, Sasuke learns that the hateful older brother that Itachi seemed to be was an act and that, in truth, Sasuke was the most precious person to Itachi; his murder of the Uchiha was done on instructions of Konoha, in order to protect Sasuke. Sasuke becomes overwhelmed by this discovery and starts conspiring against Konoha and all its citizens for ruining his and Itachi's lives, knowing full well it isn't what Itachi would want him to do. He changes his mind after he is able to speak to a reincarnated Itachi, adopting some of Itachi's views: he decides to fight for Konoha's future so that Itachi's actions aren't made meaningless and bases his understanding of the "Hokage" around the decisions Itachi made. After accepting defeat to Naruto and returning to Konoha, Sasuke matures by becoming a genuinely warm and caring person to his friends and comrades, although he is still reluctant to acknowledge certain people and retains his habit of insulting others, but more comically than coldly. He is also still capable of being indifferent if it is necessary. Also, despite travelling often, he still keeps tabs on Konoha and returns to protect the village whenever Naruto is away. Despite this, Sasuke spent much of his travels ridden with guilt for choosing his selfish desire for revenge over his friends, showing tremendous maturity. However, this resulted in Sasuke being unsure if he should return to Konoha until he received a letter saying Sakura saw the good in him when he protected the village from the shadows, such as during Toneri's meteorites, convincing him to return home to Konoha.
Sakura Haruno, a fellow member of Team 7, had the same infatuation on Sasuke that most other girls in their Academy class had. Unlike her peers, Sakura is able to spend time around Sasuke because of Team 7's missions, causing her feelings to develop into true love by the end of Part I. For his part, Sasuke spends years rejecting Sakura's attempts to spend extra time with him and having little regard for her personal feelings, but his feelings for her begin to change and he starts to think of her as someone he needs to protect. Although he expresses gratitude to her when she desperately tries to stop him from defecting from Konoha, his behavior to her becomes worse in Part II: he often shows little concern for her safety when they meet and, at times, has even tried to kill her himself. Things change after the Fourth Shinobi World War; after redeeming himself, Sasuke was overcome with guilt for the pain he put Sakura through and apologised to her, and showed her genuine affection by poking her on the forehead like his brother did with him and promised her that he would see her again as he left for his journey of atonement. This mutual affection with Sakura led Sasuke to finally fall in love with her, leading to the two getting married and having a daughter, Sarada. Although Sasuke spends years away on his mission, he never forgets about his family and feels a deep connection to them. After becoming a father, Sasuke became very caring and protective of his family, despite his initial indifference to Sarada's questions about his absence.[17] However, Sasuke loves his daughter dearly, as he puts her safety before his own[18] and shows Sarada how much he loves her and promises to come home before returning to his travelling, proving himself as a loving father. Sasuke admits his mistakes as a father, but he apparently has strong parenting skills, as he trusted Sarada's abilities enough to let her join in a dangerous battle with him, and he is wary of her feelings, as he reprimanded Naruto to not upset Sarada.[19] True to being a parent, Sasuke is prone to being filled with pride upon seeing his daughter's growth. While Sasuke is happy in his marriage to Sakura, he enjoys teasing her by declining to show her affection.[20]
Perhaps Sasuke's longest relationship is the one he's had with Naruto Uzumaki, the other member of Team 7. An orphan, Naruto spent his life alone in much the same way that Sasuke did after the Uchiha clan's assassination. Despite this similar background, Sasuke withdrew inwards, focusing on himself, whereas Naruto looked outwards, seeking others. Such differences within such similarities made Sasuke - the best student in their Academy class - and Naruto - the worst student - natural rivals. Sasuke refrained from acknowledging their rivalry until he discovered that competition with Naruto was an effective way of improving his abilities. When Naruto starts surpassing him in Part I, Sasuke becomes jealous, giving him a drive to not only become stronger than Itachi, but Naruto as well. Sasuke admits at the end of Part I that Naruto is his closest friend, a bond he tries to break repeatedly during Part II by killing Naruto. These attempts on his life never deter Naruto, instead driving him to become stronger as well. By the end of the Fourth Shinobi World War, Naruto and Sasuke are equals, neither one willing or able to decisively defeat the other. When they fight past the point of being able to move, Naruto describes the idea of life without Sasuke as painful, as though being without his brother. In that moment, Sasuke realises that, as with Itachi, Naruto has always been his better, always been a model to live up to.[21] He accordingly surrenders and accepts Naruto's friendship.[22] Though they maintain their rivalry, they are on more friendly terms, with Sasuke telling Naruto's son, Boruto, that his father's many seemingly impossible accomplishments eclipse whatever flaws of character he has. Although Sasuke doesn't wear his forehead protector that Naruto returned to him, he always keeps it with him during his travels, implying that he values it as proof of their friendship.
Appearance Edit
Hashirama Senju says Sasuke strongly resembles Izuna Uchiha:[23] he has black eyes and spiky black hair with a blue tint. Sasuke's hair has hung over his face as bangs since he was a child, which as he gets older he allows to grow longer and, in turn, cover more of his face; by adulthood, his hair completely covers his left eye, and in Boruto: Naruto Next Generations, it becomes much curlier. He is considered handsome by most girls his age.
Sasuke's typical clothing has changed a number of time throughout his life, but the Uchiha clan's crest is usually present somewhere on his clothing, such as the back or his shirt collar. For most of Part I, he wears a navy blue, short-sleeved shirt with a high collar, white shorts, and, for a time, white arm warmers. During the Chūnin Exams' finals he wears a black, one-pieced version of this usual attire with many small belts adorning his left arm and similar bands around both legs. He wears a blue-clothed forehead protector with both of these outfits, but starts wearing it less and less after being hospitalised by Itachi, finally abandoning it entirely at the end of Part I.
In Part II, Sasuke consistently wears dark blue pants, over which hangs a blue cloth that covers him from his stomach to his knees and which he secures with a purple rope belt; this all is common to Orochimaru and his followers. He initially complements this with a white long-sleeved shirt kept open at the torso and black arm guards that cover his forearms. Leading up to and during his battle with Itachi, he replaces this top with a sleeveless dark grey shirt and the arm guards with bandages on his wrists. He switches after Itachi's death, wearing a white (grey in the anime) zippered, high-collared, short-sleeved shirt and blue wrist warmers. He wears a hooded cloak over his clothing at different points, usually an unadorned black one, but for a time it bears the trademark Akatsuki clouds.
Sasuke loses his left arm at the end of the Fourth Shinobi World War, though unlike Naruto, he opts not to have it replaced. In The Last: Naruto the Movie, he wears a black high-collared shirt, a midriff-exposing flak jacket, and light blue pants. Most of this goes unseen, as he wears a tattered light brown poncho over it. He wraps bandages around his ankles and a blue sash around his head during this appearance. In his later adulthood, Sasuke dons a black coat with an indigo, long sleeved, collared shirt, over which he wears a grey vest. He also wears black pants, a purple belt, and dark blue finger-less glove on his remaining arm. He once again wears his forehead protector, letting it hang from his left hip.[24] In Boruto: Naruto Next Generations, Sasuke's hair became much curlier in appearance. His cloak has also changed, although virtually identical to his old one, with the only noticeable difference being that it no longer has silver buttons on the collar.
Abilities Edit
Sasuke is a natural prodigy who graduated top of his class in the Academy, making a strong impression on his sensei Kakashi in the bell test. He fought on par with strong shinobi such as Haku and Gaara in Part I, and earned the attention of Orochimaru, Tobi, and Madara Uchiha for his potential. Under Orochimaru's tutelage for two-and-a-half years, Sasuke became strong enough to fight Akatsuki members like Deidara and Itachi himself, two of the Five Kage, and defeat Danzō Shimura. With the Six Paths Chakra, he helped overwhelm Madara as the Ten-Tails' jinchūriki and was praised by Kurama for having comparable prowess to the Sage of the Six Paths. As an adult, despite losing his left arm, Sasuke could fight on par with Kinshiki Ōtsutsuki, an individual who held his own against multiple Kage at once.
Despite having no training in senjutsu, Sasuke has shown the ability to sense natural energy in his final battle with Naruto.[25]
Chakra and Physical Prowess Edit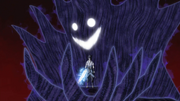 Sasuke's chakra is quite strong, in part because he is the reincarnation of Indra Ōtsutsuki. Though this quality is never really touched upon in Part I, it is frequently noted in Part II: whenever Sasuke's Curse of Hatred deepens, others remark how much stronger,[26] darker,[27] and more sinister his chakra becomes.[28] His reserves are also quite large, enough to use Chidori twice a day during Part I without aid. They increase by Part II as Sasuke becomes able to use Chidori and related techniques multiple times in a single day as well as summon creatures as large as Manda. His chakra control, though less refined than Sakura Haruno's, is nevertheless good; in adulthood, after losing one of his arms, he can use one-handed hand seals.[29]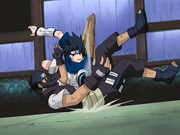 Although Sasuke is very capable in taijutsu, enough to hold his own in hand-to-hand combat on several occasions, it is not his emphasis; he predominately uses it to create an opening for ninjutsu or when he runs low on chakra. His most consistent physical display is his speed, and by extension his reaction time: Haku remarks on how impressive Sasuke is in both regards during their battle. After re-awakening his Sharingan, Sasuke concentrates on honing his speed and reflexes so that he can react to the Sharingan's heightened visual information, which he accomplishes by imitating Rock Lee's movements.[30] His speed is, at various times, faster than the Shield of Sand,[31] a match for the Lightning Release Chakra Mode, and enough to physically incapacitate opponents before they realise he's even approached them.[32]
Sakura, after re-encountering Sasuke for the first time in Part II, finds the improvement to his abilities unnaturally high and hypothesises that he was given drugs by Orochimaru. Orochimaru is known to have experimented on Sasuke, enough to make him immune to poisons,[33] but it's not known what other modifications he may have received. He acquires some of Orochimaru's attributes after absorbing him, such as additional chakra reserves,[34] a faster healing rate,[35] and the ability to shed his body, all of which are lost when Orochimaru is removed from him. He later receives half of Hagoromo's power, which he evidently is able to keep.
Cursed Seal Edit
Orochimaru brands Sasuke with the Cursed Seal of Heaven after their first encounter in Part I. When active, the cursed seal saps Sasuke's own chakra and replaces it with a larger amount of Orochimaru's, in turn increasing his strength and speed. Though useful, Sasuke's early uses of the cursed seal are often involuntary, painful while active, and leave him briefly unable to move afterwards. These shortcomings are either minimised or eliminated once he becomes able to enter the cursed seal's second state: a transformation that turns his skin grey, lengthens his hair, and causes him to develop wings. The transformation's boosts to his physical parameters are similar to a jinchūriki's version 1 forms, which by Part II he can isolate to parts of his body.
Itachi removes the cursed seal from Sasuke's body during Part II, preventing him from using it again. However, he remains compatible with the cursed seal's source, Jūgo, allowing Jūgo to provide him flesh or chakra as the need arises.
Ninjutsu Edit
Sasuke learns to summon snakes during his time with Orochimaru. He typically summons them as shields, rapid ground transportation, or to bind targets. Unseen outside of the Animal Path, Sasuke can also summon a second animal species: hawks. His use of hawks is more limited than snakes, using them only for flight and the additional manoeuvrability that allows. By the time of Boruto: Naruto the Movie, Sasuke is able to use the Shadow Clone Technique.
Bukijutsu Edit
As an Uchiha, Sasuke is trained with a variety of different ninja tools. When he was a child, he once used (inexpertly) a bow and arrow to hunt boar with Itachi,[36] practice that later becomes useful for his Susanoo. His area of expertise is in shurikenjutsu, allowing him to throw shuriken and kunai with precision; for complicated or moving targets, Sasuke can guide shuriken to their mark using either wire strings or deflecting them off each other. Though his throwing speed is faster than most, it doesn't compare to Itachi, prompting him to devise the Lightning Flash Blade Creation: by sealing shuriken and kunai into his arm bracelets, Sasuke can always have a large supply at the ready, allowing him to barrage targets in an instant.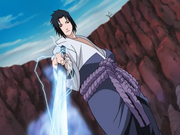 Sasuke begins using a sword after training with Orochimaru, wielding it just as skillfully in either hand. He uses what he calls his "Sword of Kusanagi" regularly throughout Part II, often to cut down multiple opponents in a short period of time.[37] He uses it defensively as well, blocking incoming attacks or holding off skilled swordsmen;[38] Mifune, a samurai, praises Sasuke's swordsmanship.[39] By adulthood, Sasuke becomes skilled enough to instantly switch back and forth between wielding his sword backhanded and normally even during a clash.[14]
Nature Transformation Edit
Sasuke can use all five basic nature transformations, as well as Yin–Yang Release;[4] he could already utilise two natures at age 13. As an Uchiha, he has a natural affinity for Fire Release, mastering the clan's Great Fireball Technique years before becoming a genin. Sasuke can also coat fire around his shuriken, guide his flames along wire strings, or create a succession of dragon-shaped fireballs.
Sasuke most commonly utilises Lightning Release, the Chidori he learns