editRyūsui [1]

リュウスイ Ryūsui

Debut
Manga
Volume #40, Naruto Chapter #368
Anime
Naruto Shippūden Episode #129
Game
Naruto Shippūden: Ultimate Ninja Storm Generations
OVA
Naruto Shippūden: UNSG anime cutscenes
Appears in
Anime, Manga, Game
Voice Actors
Japanese
English
Personal
Gender
Male
Age
Affiliation
Partner
Rank
Ninja Rank

Family
Ryūsui (リュウスイ, Ryūsui) is a genin from Amegakure, though he has a scratch through the village symbol on his forehead protector to indicate his loyalty to Pain.
Background
He and Yūdachi were the ones delivering corpses to the highest tower in Amegakure, where Pain allegedly resides. Their most recent delivery was the corpse of what would be the second Animal Path.[2]
Part II
Itachi Pursuit Arc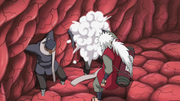 He and his partner, Yūdachi were captured by Jiraiya. When they refused to tell Jiraiya any information on Pain, even after tickle torture on his partner, he transformed Yūdachi into a frog, which frightened Ryūsui into divulging information about Pain. Jiraiya then tries to control Ryūsui in an attempt to find Pain, but is found by Konan. Ryūsui then follows Konan's orders to leave and is able to escape.
Trivia
The anime expands on his situation, seeing as he is captured by Jiraiya who learned about him from his wife, Tezuna.
Ryūsui (

流水

) means "running water", or "stream".
References
↑

Third Databook, page 189

↑ Naruto chapter 424, pages 5-8