editRaiga Kurosuki
黒鋤雷牙 Kurosuki Raiga

Thunder of the Hidden Mist (霧隠れの雷人Kirigakure no Raijin)[1]

Debut
Manga
Volume #69, Naruto Chapter #668
Anime
Naruto Episode #152
Appears in
Anime, Manga
Voice Actors
Japanese
English
Personal
Gender
Male
Status
Deceased
Classification
Occupation
Affiliation
Team
Partner
Rank
Ninja Rank
Raiga Kurosuki
(
黒鋤雷牙
,
Kurosuki Raiga
) was a former member of
Kirigakure
's
Seven Ninja Swordsmen of the Mist
introduced in the anime.
Template:Procura
editRaiga Kurosuki
黒鋤雷牙 Kurosuki Raiga

Thunder of the Hidden Mist (霧隠れの雷人Kirigakure no Raijin)[1]

Debut
Manga
Volume #69, Naruto Chapter #668
Anime
Naruto Episode #152
Appears in
Anime, Manga
Voice Actors
Japanese
English
Personal
Gender
Male
Status
Deceased
Classification
Occupation
Affiliation
Team
Partner
Rank
Ninja Rank
Template:Tradução
era um ex-membro da
Kirigakure
's
Sete Espadachins Ninja da Névoa
introduzido no anime.
== Background ==
Raiga was a member of the Seven Ninja Swordsmen of the Mist and inherited the dual swords Kiba from Ameyuri Ringo. Antecedentes == == thumb | left | Raiga durante seus dias ANBU Raiga era um membro da [Swordsmen Ninja [Sete of the Mist]] e herdou a dupla espadas Kiba de Ameyuri Ringo.
While he was still loyal to Kirigakure and a member of ANBU, Raiga met Ranmaru during a mission, a disabled boy who came to act as additional eyes and ears for Raiga in exchange for being carried upon his back. Enquanto ele ainda era leal a Kirigakure e um membro da ANBU, Raiga encontrou Ranmaru durante uma missão, um menino deficiente que chegou a atuar como olhos e ouvidos adicionais para Raiga em troca de ser levada nas costas.
Ranmaru would become the only person Raiga cared about. Ranmaru se tornaria a única pessoa que se importava com Raiga.
Sometime after his defection, Raiga enslaved a town and forced its villagers to work in its mines, also assembling some followers (including Karashi) to form the Kurosuki Family. Algum tempo depois de sua deserção, Raiga escravizados uma cidade e seus habitantes forçados a trabalhar em suas minas, também reunindo alguns seguidores (incluindo karashi) para formar o Kurosuki Família.
Besides him, his followers wore a hooded robe, gloves that sprout claws from the back of the hand, and enforced his laws. Além dele, seus seguidores usava uma túnica com capuz, luvas de garras que brotam da parte de trás da mão, e cumpridas as suas leis.
Should a law of his be broken, whoever committed the "crime" would end up being buried alive. Se uma lei do seu ser quebrado, quem cometeu o "crime" acabaria por ser enterrado vivo.
== Personality ==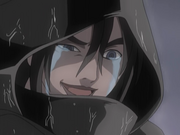 During his life in Kirikagure, Raiga was a very tormented, cruel and lonely individual asking every day to looking for the meaning of life, killing unscrupulously and randomly anyone during his missions without any precise purpose in mind, and began to cry in his heart whenever he killed someone. Personalidade == == [[Arquivo: Raiga-Funeral.png | thumb | left | Raiga chorando sinceramente durante um funeral].] Durante sua vida em Kirikagure, Raiga era muito atormentado individual, cruel e solitária pedindo a cada dia a procura o sentido da vida, matando inescrupulosamente e aleatoriamente alguém durante as suas missões sem qualquer finalidade precisa em mente, e começou a chorar em seu coração sempre que ele matou alguém.
After he met Ranmaru and deserted Kirigakure, his goal was to take care and protect Ranmaru at all costs, Raiga being Ranmaru's body and Ranmaru being Raiga's eyes and ears, allowing him to see and explore the world that he could never do alone, both finding their meaning of life. Depois ele conheceu Kirigakure Ranmaru e deserta, seu objetivo era cuidar e proteger Ranmaru a todo custo, Raiga sendo corpo Ranmaru e Ranmaru sendo olhos Raiga e ouvidos, que lhe permite ver e explorar o mundo que ele nunca poderia fazer sozinho, tanto encontrar seu significado da vida.
One particularity of Raiga is his love to give funerals to people by burying them alive, where he cries sincerely and remember their lives. Uma particularidade da Raiga é o seu amor para dar funerais de pessoas enterrando-os vivos, onde ele chora sincera e lembrar de suas vidas.
Also, for unknown reasons, he hates Zabuza, Kisame and all of the other Seven Ninja Swordsmen of the Mist. Além disso, por razões desconhecidas, ele odeia Zabuza, Kisame e todos os Swordsmen Ninja outros sete of the Mist.
== Appearance ==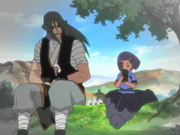 Raiga had blue eyes with a darker ripple around the pupil, waist-length green hair with the top two bangs falling down on his cheeks on each side, and having dark fleshy lips. Aspecto == == thumb | right | Raiga com Ranmaru durante a sua viagem. Raiga tinha olhos azuis com um tom mais escuro ondulação em torno do cabelo aluno, cintura verde com os dois primeiros estrondos caindo em seu rosto em cada lado, e tendo escuros lábios carnudos.
When he lived in Kiri as an ANBU, he wore the traditional Kiri ANBU uniform with a white mask with thin, short curved eye-holes, a mischievous smile and two red wave design on the top and bottom on the left side, as well as the Kirigakure symbol on the forehead. Quando ele morava em Kiri como um ANBU, ele usava o tradicional uniforme ANBU Kiri com uma máscara branca com fina, curva curta olho-buracos, com um sorriso travesso e dois design de onda vermelho na parte superior e inferior do lado esquerdo, bem como o símbolo Kirigakure na testa.
After his defection, he wore a grey hooded mantle with three red stripes where he hid Ranmaru in a nest-strapped to his back. Após sua deserção, ele usava um manto cinza com capuz, com três listras vermelhas onde ele escondeu em um ninho Ranmaru-amarrado a suas costas.
Under his mantle, Raiga wore a dark-brown sleeveless vest falling to his knees where the inside was purple, a light brown belt, a light grey pants and, like all the Swordsmen of the Mist, he had bandages covering most of his body, his neck down to his chest, including his arms and his tibias. Sob o seu manto, Raiga usava um colete marrom-escuro sem mangas caindo de joelhos onde o interior era roxo, uma luz marrom, uma calça cinza claro e, como todos os Espadachins da Névoa, ele tinha ataduras cobrindo a maior parte de seu corpo, seu pescoço até o peito, incluindo os braços e suas tíbias.
== Abilities == As one of the Seven Ninja Swordsmen of the Mist and a former ANBU, Raiga is one of the most powerful shinobi produced in Kirigakure. Habilidades == == Como um dos [Swordsmen Ninja [Sete of the Mist]] e um ex-ANBU, Raiga é um dos shinobi mais poderoso produzido no Kirigakure.
Ranmaru, being hidden under Raiga's hood, uses his ability, which involves heightened perception and analytical powers like the Sharingan, locate and track others by sensing chakra, picking up chakra from long distances and sense how many individuals are present, noticing changes in an individual's chakra, as well as performing genjutsu that can fool even the all-seeing Byakugan, to assist Raiga and making him more effective in battle. Ranmaru, sendo escondido sob a capa Raiga, usa sua capacidade, que envolve elevada percepção e poderes analíticos como o Sharingan chakra, localizar e rastrear outros por sentir chakra, pegando de longas distâncias e senso quantos indivíduos estão presentes, notando mudanças no chakra de um indivíduo, bem como a realização genjutsu que podem enganar até mesmo a tudo vê Byakugan, para ajudar Raiga e tornando-o mais eficaz em batalha.
=== Kenjutsu ===
As one of the Seven Ninja Swordsmen of the Mist, Raiga wielded Kiba, twin swords imbued with lightning, which are claimed to be the sharpest swords ever made, having the ability to cut through anything, by apparently functioning in a similar manner to Lightning Release-based chakra flow which he wielded with great dexterity, able to defend himself against Lee's attacks.[2] He can connect them at their hilts to form a larger double-bladed sword, effectively increasing the weapon's size and allowing him to perform different and more powerful blade-wielding techniques. Kenjutsu === === thumb | left | Raiga manipular iluminação natural Como um dos [Swordsmen Ninja [Sete of the Mist]], Raiga exercia Kiba, espadas gêmeas imbuídos de um relâmpago, que são requeridas para ser as maiores espadas de todos os tempos, tendo a capacidade de cortar através de qualquer coisa, por aparentemente funcionando de forma semelhante ao relâmpago fluxo de chakra lançamento baseado em que ele exercia com grande destreza , capaz de se defender contra ataques de Lee. Cite error: Closing </ref> missing for <ref> tag. He was also able to use natural lightning to completely destroy his body if he was on the verge of death, leaving no trace of it.[3] === Nature Transformation === Even without his swords, Raiga can use electrical energy to cause a Rock Avalanche and the Hiding in Mist Technique to blind his targets by blanketing the area in a thick mist and making them more vulnerable.
Seu domínio sobre iluminação natural foi tão grande que ele não precisava de movimento para chamar um raio e pode cobrir uma grande área com alguns deles, como meio de defesa.
[4]
Cite error: <ref> tags exist, but no <references/> tag was found