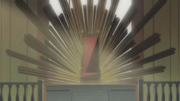 The Rōran Palace is the royal residence and home of the Queens of Rōran. Both Sēramu and her daughter Sāra, the last queens of Rōran, lived and ruled the city in the Palace. The Throne Room consists of a large room, with a golden throne, covered with a red cloth and gold spikes on its back. It was also the place where Queen Sēramu was murdered by Anrokuzan, when she refused to assist him. Along with Rōran, the palace was eventually destroyed during the war.
Ad blocker interference detected!
Wikia is a free-to-use site that makes money from advertising. We have a modified experience for viewers using ad blockers

Wikia is not accessible if you've made further modifications. Remove the custom ad blocker rule(s) and the page will load as expected.