Ad blocker interference detected!
Wikia is a free-to-use site that makes money from advertising. We have a modified experience for viewers using ad blockers

Wikia is not accessible if you've made further modifications. Remove the custom ad blocker rule(s) and the page will load as expected.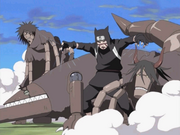 Puppets (傀儡, Kugutsu) are used as weapons by puppeteers. They are most often humanoid-looking creations, but depending on the creator, can resemble anything. They are fashioned in a manner that uses every part as a weapon, giving the puppeteer a myriad of ways to manipulate it. Puppets are long-ranged type weapons that can be used offensively, defensively or for supplementary reasons, and are controlled via Chakra Threads. Because of their design, the weak point of any puppet is its joints. There are two types of puppets: ones made from material such as wood, and Human Puppets. Famed puppeteer Sasori of the Red Sand was the inventor of human puppets and also created a puppet which he wore like armour, bypassing the usual disadvantage that puppeteers had of being weak in close-ranged combat. Puppets are often sealed within scrolls using fūinjutsu, for ease of transport.
Known Puppets
Karasu
Main article: Karasu Karasu (烏, Karasu, Literally meaning: Crow) is a puppet, originally created by Sasori, but later inherited by Kankurō. It resembles a three-eyed, four-armed humanoid with jagged teeth and spiky brown hairstyle protruding from the top of its head and framing the sides. In Part I, Kankurō typically keeps Karasu wrapped in bandages on his back, and he is able to switch places with it at will using the Body Replacement Technique.
Kuroari
Main article: Kuroari Kuroari (黒蟻, Kuroari, Literally meaning: Black Ant) is a puppet, originally created by Sasori, but was passed onto Kankurō. It has a much longer head than Karasu with a bucket-shaped face sporting two sharp red horns and six arms; its facial features include three eyes similar to Karasu, with a dark dishevelled hairstyle. Its overall body-frame somewhat resembles a large barrel.
Sanshōuo
Main article: Sanshōuo Sanshōuo (山椒魚, Sanshōuo, Literally meaning: Salamander) is a puppet, originally created by Sasori, but passed onto Kankurō. Unlike Kankurō's other puppets, Sanshōuo stays true to its name and resembles a salamander. Sanshōuo is a puppet that has high defensive power.
Hiruko
Main article: Hiruko Hiruko (ヒルコ, Hiruko) is a puppet used by the Akatsuki shinobi, Sasori. Serving as a "puppet armour", it allowed Sasori to hide inside of it. Sasori also adorned Hiruko with the Akatsuki's robes and hid inside it so often that others came to recognise him only when he was wearing it. In the anime, Hiruko is a human puppet made from the corpse of a renowned shinobi.[1] According to Chiyo, Hiruko was Sasori's favourite puppet.[2]
Third Kazekage
Main article: Third Kazekage (puppet) This is the human puppet created by Sasori from the body of Sunagakure's Third Kazekage. The efforts that Sasori went through to acquire the puppet made it his favourite.[3][4]
Mother and Father
Main article: Mother and Father Mother (母, Haha) and Father (父, Chichi) were the first two puppets Sasori ever created, modelled after his real mother and father, who were killed by Sakumo Hatake during a war.
Sasori
Main article: Sasori (puppet) This is the puppet created by Sasori made to look like his original body. When he inhabited it, it contained his "core of living flesh" (生身の核, namami no kaku) in the left compartment in its chest.
The Chikamatsu Collection of Ten Puppets
See also: Chikamatsu Collection The Chikamatsu Collection was created by the first puppet master, Monzaemon Chikamatsu. They later came into Chiyo's possession. They were designed to work together for devastating capabilities, and were designed to be much stronger than normal puppets. They are capable of taking down an entire castle when used by the right puppeteer.
Hundred Puppet Army
See also: Hundred Puppet Army The One Hundred Puppets used by Sasori are said to be able to take down an entire country. Each one is an opponent defeated and converted into a human puppet, specifically chosen from his collection of 298 of such puppets, being adorned with special red clothing. Due to Sasori converting himself into a puppet, he has a special mechanism that allows him to control one hundred puppets. Though they lack teamwork, they use sheer attrition to wear down the opposition.
Others
Non-Canon Puppets
References
↑ Naruto Shippūden episode 20
↑ Naruto chapter 265, page 5
↑ Naruto chapter 266, page 17
↑ Naruto chapter 268, page 11
↑ Naruto chapter 526, page 3
↑ Naruto episode 217
↑ Naruto: Shippūden episode 319
↑ Naruto episode 145
↑ Naruto: Shippūden episode 184
↑ Naruto: Shippūden episode 127
↑ Naruto: Shippūden episode 235
↑ Naruto: Shippūden episode 408