Home
Talk

1k
5,403pages on
this wiki
NOTE: Special:BrowseData lists are now working for older data, but not for newer data. Also, Infobox Jutsu/Tool lists are missing items. We do ask that you bear with us as the issues are addressed. For more information please see this blog post.
Synopsis
Twelve years before the start of the series, the Nine-Tailed Demon Fox attacked Konohagakure destroying much of the village and taking many lives. The leader of the village, the Fourth Hokage sacrificed his life to seal the Nine-Tails into a newborn, Naruto Uzumaki. Orphaned by the attack, Naruto was shunned by the villagers, who out of fear and anger, viewed him as the Nine-Tails itself. Though the Third Hokage outlawed speaking about anything related to the Nine-Tails, the children — taking their cues from their parents — inherited the same animosity towards Naruto. In his thirst to be acknowledged, Naruto vowed he would one day become the greatest Hokage the village had ever seen. Read more...
Latest Chapter
Never one to be outdone, Madara launches his counterattack on Naruto and Sasuke casting the Sage Art: Yin Release Lightning Dispatch technique which the former is able to deflect while the latter evades it entirely. Madara soon realises that they have worked out the mechanisms behind his Rinbo: Hengoku technique and quickly moves to reformulate his strategy. Taking the lead, Sasuke calls for Naruto to use Hagoromo's power in his next technique to bind Madara. Though reluctant to take orders from his rival and friend, Naruto readies himself to attack once more. Read more...
Latest Episode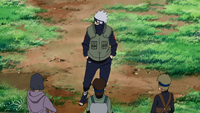 Now relieved from his Anbu duties, Kakashi starts his day as jōnin and instructor to genin. He recalls his past mistakes on his training days with his former sensei Minato Namikaze and tries to make his own way in instructing his candidates. Hiruzen notices the "darkness" still embedded in Kakashi's heart. Read more...
Get the My Wikia App!
With Wikia's official flagship app, My Wikia, you can search for communities and add them to your home screen and read constantly evolving, deep content in a customizable format.
DOWNLOAD NOW FOR FREE!

Did you know?
Naruto is one of the best selling manga of all time having sold more than 113 million copies in Japan?
In TV Asahi's latest top 100 Anime Ranking from October 2006, Naruto ranked 17th on the list?
Naruto: Shippūden has ranked several times as one of most watched series in Japan?
The Naruto anime adaptation won the "Best Full-Length Animation Programme Award" in the Third UStv Awards held in the University of Santo Tomas in Manila, Philippines?
The Naruto anime was listed as the 38th best animated show in IGN's Top 100 Animated Series?
Poll
Who's your favourite user of the Rinnegan?
Have a question?
Ask a question on Naruto Answers