Home
Talk

1k
5,534pages on
this wiki
Synopsis
Main article: Plot of Naruto
Twelve years before the start of the series, the Nine-Tailed Demon Fox attacked Konohagakure destroying much of the village and taking many lives. The leader of the village, the Fourth Hokage sacrificed his life to seal the Nine-Tails into a newborn, Naruto Uzumaki. Orphaned by the attack, Naruto was shunned by the villagers, who out of fear and anger, viewed him as the Nine-Tails itself. Though the Third Hokage outlawed speaking about anything related to the Nine-Tails, the children — taking their cues from their parents — inherited the same animosity towards Naruto. In his thirst to be acknowledged, Naruto vowed he would one day become the greatest Hokage the village had ever seen.
Latest Chapter

At the Valley of the End, Sasuke speaks about his notion of a "true Hokage", and talks about Itachi and his past related to Konoha. He tells Naruto that Itachi is "the true Hokage". He then speaks about Itachi's mistake, and the loss of his clan-members, how he wants to shoulder the pain and hatred of Shinobi on his own, and that, through this, he will unify the villages, and eradicate the "darkness". He says that a hokage is one who "sets fire to the villages' darkness with his one own flame". Hearing his speech, Hagoromo telepathically asks him if that is his answer, which Sasuke agrees to. Naruto rebukes that if he thinks everyone will be okay with this, which to Sasuke replies that it doesn't matter what they think of him, as he is the only one with power to control. Naruto thinks about his duties and what he has done in the war, and Itachi's words, how if he forgot the people that gave him strength, and took it all on his own, that he would become prideful like Madara. That, if he did shoulder everything by himself, he would fail. Naruto then speaks out loud, talking about how Sasuke doesn't know at all about what Itachi really wanted, and says that their fight with Kaguya should've shown him that he couldn't do everything on his own.
Latest Episode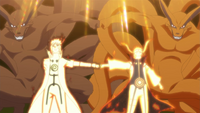 Did you know?
Naruto is one of the best selling manga of all time having sold more than 113 million copies in Japan?
In TV Asahi's latest top 100 Anime Ranking from October 2006, Naruto ranked 17th on the list?
Naruto: Shippūden has ranked several times as one of most watched series in Japan?
The Naruto anime adaptation won the "Best Full-Length Animation Programme Award" in the Third UStv Awards held in the University of Santo Tomas in Manila, Philippines?
The Naruto anime was listed as the 38th best animated show in IGN's Top 100 Animated Series?
Links
Poll
What's your favourite main type of jutsu?
Answers Wiki
Ask a question on Naruto Answers
Springtime Of Youth Wiki