Home
Talk

961
5,038pages on
this wiki
Synopsis
Main article: Plot of Naruto
Twelve years before the start of the series, the Nine-Tailed Demon Fox attacked Konohagakure destroying much of the village and taking many lives. The leader of the village, the Fourth Hokage sacrificed his life to seal the Nine-Tails into a newborn, Naruto Uzumaki. Orphaned by the attack, Naruto was shunned by the villagers, who out of fear and anger, viewed him as the Nine-Tails itself. Though the Third Hokage outlawed speaking about anything related to the Nine-Tails, the children — taking their cues from their parents — inherited the same animosity towards Naruto. In his thirst to be acknowledged, Naruto vowed he would one day become the greatest Hokage the village had ever seen.
Latest Chapter
As Sakura questions who the man before them were, Minato introduces himself and advises her to get ready for the explosion. Just then the sea rises up behind them, leading Minato to explain to the confused Allied Shinobi Forces that he had sent the Ten-Tails' Tailed Beast Ball to the sea. Akamaru's growls alert everyone in the vicinity that something was not right with their would-be saviour, and the shinobi soon notice that he is a reincarnated shinobi. However, Minato tells them not to worry as he was on their side, and asks Sakura if she was Naruto's girlfriend. Naruto answers, though his response prompted Sakura to headbutt him in retaliation, the belligerent action reminding Minato of Kushina and her own short temper. As Naruto notes that he has felt their chakra in Tailed Beast Mode, and that others were coming as well, the shinobi on the battlefield turn in shock to see the three other previous Hokage arrive. Read more...
Latest Episode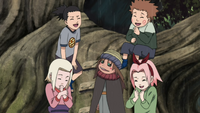 Still struggling to find a way to deal with the reincarnated Yota, having resorted to dodging his attack, Ino contacts her father and requests that he patch them through to their comrades. There it is revealed that Sakura, Kiba, and Akamaru were also dealing with Yota. Shocked as to exactly what was going on, the shinobi struggle to find a way to seal Yota as they had done the other reincarnated shinobi. As they remember more of their time as children with Yota, Naruto also encounters a Yota who conjures gusts of wind with each whistle he makes. Ultimately, it is revealed that Konoha's ANBU captured Yota and took him in for questioning. With this, Naruto notes that it was their fault that Yota had died.
Did you know?
Naruto is one of the best selling manga of all time having sold more than 113 million copies in Japan?
In TV Asahi's latest top 100 Anime Ranking from October 2006, Naruto ranked 17th on the list?
Naruto: Shippūden has ranked several times as one of most watched series in Japan?
The Naruto anime adaptation won the "Best Full-Length Animation Programme Award" in the Third UStv Awards held in the University of Santo Tomas in Manila, Philippines?
The Naruto anime was listed as the 38th best animated show in IGN's Top 100 Animated Series?
Links
Poll
Who's your favourite member of Team Kurenai?
Answers Wiki
Ask a question on Naruto Answers
Springtime Of Youth Wiki
New Pages on Springtime of Youth Wiki
Loading RSS data...