Home
Talk

1k
5,214pages on
this wiki
Synopsis
Main article: Plot of Naruto
Twelve years before the start of the series, the Nine-Tailed Demon Fox attacked Konohagakure destroying much of the village and taking many lives. The leader of the village, the Fourth Hokage sacrificed his life to seal the Nine-Tails into a newborn, Naruto Uzumaki. Orphaned by the attack, Naruto was shunned by the villagers, who out of fear and anger, viewed him as the Nine-Tails itself. Though the Third Hokage outlawed speaking about anything related to the Nine-Tails, the children — taking their cues from their parents — inherited the same animosity towards Naruto. In his thirst to be acknowledged, Naruto vowed he would one day become the greatest Hokage the village had ever seen.
Latest Chapter
Giving their opponent no time to relent, Sasuke engulfs Madara in the flames of Amaterasu. Madara removes his armour, as Naruto insists that is was pointless simply attack Madara, while Hashirama is puzzled as to why their opponent had closed his eyes. Emerging unscathed from the flames, Madara turns his attention to Hashirama, whom he reminds of the last conversation they had at the Naka Shrine, revealing that he believed that only the power of the Uchiha and Senju could bring true bliss. Launching his counterattack, Madara knocks both Naruto and Sai aside and uses the stakes he had embedded in Hashirama earlier to immobilise his target. Using this opportunity, Madara absorbs Hashirama's senjutsu chakra, which reflects on the face of Hashirama jutting out of his chest. Read more...
Latest Episode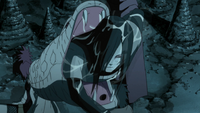 Suigetsu proceeds to show Sasuke the scroll that he found at Orochimaru's hideout earlier. After examining its contents, Sasuke's next motive is to meet with Orochimaru and explained to a confused Suigetsu that he is not one to die so easily as well as declaring that he is going to meet the "ones who know everything". With Jūgo's assistance, Sasuke revives Orochimaru via the Evil Releasing Method. Expressing shock that Sasuke would be the one to resurrect him, Orochimaru asserts that he has no interest in the war. Instead, his sight is still set on Sasuke's body but notes that such a task cannot be completed in his current state. Read more...
Did you know?
Naruto is one of the best selling manga of all time having sold more than 113 million copies in Japan?
In TV Asahi's latest top 100 Anime Ranking from October 2006, Naruto ranked 17th on the list?
Naruto: Shippūden has ranked several times as one of most watched series in Japan?
The Naruto anime adaptation won the "Best Full-Length Animation Programme Award" in the Third UStv Awards held in the University of Santo Tomas in Manila, Philippines?
The Naruto anime was listed as the 38th best animated show in IGN's Top 100 Animated Series?
Links
Poll
What's your favourite Naruto: Shippūden opening?
Answers Wiki
Ask a question on Naruto Answers