Welcome to Narutopedia.
We are currently editing over 5,882 articles and 7,814 images and you can help.
Be warned that this wiki is filled with SPOILERS about the Naruto series. This is your only warning, read at your own risk!
Due to the MediaWiki upgrade many parts of the site will appear broken such as filterable lists and infoboxes. We do ask that you bear with us as the issues are addressed.
Synopsis
Main article: Plot
Twelve years before the start of the series, the Nine-Tailed Demon Fox attacked Konohagakure destroying much of the village and taking many lives. The leader of the village, the Fourth Hokage sacrificed his life to seal the Nine-Tails into a newborn, Naruto Uzumaki. Orphaned by the attack, Naruto was shunned by the villagers, who out of fear and anger, viewed him as the Nine-Tails itself. Though the Third Hokage outlawed speaking about anything related to the Nine-Tails, the children — taking their cues from their parents — inherited the same animosity towards Naruto. In his thirst to be acknowledged, Naruto vowed he would one day become the greatest Hokage the village had ever seen.
Latest Chapter
As Sasuke reaches to attack Sarada, she calls out to him as her father, and is disappointed that her father didn't recognise her. Naruto and Chōchō arrive, with Chōchō berating Sarada for going off on her own. Sasuke questions Naruto why he brought children with him, and Sarada explains they tailed Naruto to reach Sasuke. Chōchō wonders if Sasuke is her father. Sarada asks Sasuke if Sakura is her real mother. Shizune informs Sakura about Sarada's findings and intentions. Sarada vents her anger at Sasuke's obliviousness and unwillingness to share information about himself, and leaves the room. Read more...
Latest Episode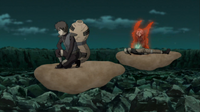 Gaara transports Sakura and Naruto to the Fourth Hokage in order to have Yin-Kurama sealed into Naruto to save him. While being transported, Sakura attempts to heal Naruto. As the Nine-tails' chakra cloak disappears, Sakura discovers that her medical ninjutsu is unable to reverse the effects of the Yang-Kurama's extraction and resorts to slicing open Naruto's chest and manually pumping his heart. Meanwhile, Karin, distraught, goes after Sasuke to heal him. As Karin heads towards him, Tobi uses a miniature version of Hashirama's Sage Art Wood Release: True Several Thousand Hands to stop her. Read more...
Did you know?
Naruto is one of the best selling manga of all time having sold more than 113 million copies in Japan?
In TV Asahi's latest top 100 Anime Ranking from October 2006, Naruto ranked 17th on the list?
Naruto: Shippūden has ranked several times as one of most watched series in Japan?
The Naruto anime adaptation won the "Best Full-Length Animation Programme Award" in the Third UStv Awards held in the University of Santo Tomas in Manila, Philippines?
The Naruto anime was listed as the 38th best animated show in IGN's Top 100 Animated Series?
Links
Poll
What is your favourite Naruto video game series?