Home
Talk

961
5,037pages on
this wiki
NOTE: Special:BrowseData lists are now working for older data, but not for newer data. Also, Infobox Jutsu/Tool lists are missing items. We do ask that you bear with us as the issues are addressed.
Synopsis
Main article: Plot of Naruto
Twelve years before the start of the series, the Nine-Tailed Demon Fox attacked Konohagakure destroying much of the village and taking many lives. The leader of the village, the Fourth Hokage sacrificed his life to seal the Nine-Tails into a newborn, Naruto Uzumaki. Orphaned by the attack, Naruto was shunned by the villagers, who out of fear and anger, viewed him as the Nine-Tails itself. Though the Third Hokage outlawed speaking about anything related to the Nine-Tails, the children — taking their cues from their parents — inherited the same animosity towards Naruto. In his thirst to be acknowledged, Naruto vowed he would one day become the greatest Hokage the village had ever seen.
Latest Chapter
As Sakura questions who the man before them were, Minato introduces himself and advises her to get ready for the explosion. Just then the sea rises up behind them, leading Minato to explain to the confused Allied Shinobi Forces that he had sent the Ten-Tails' Tailed Beast Ball to the sea. Akamaru's growls alert everyone in the vicinity that something was not right with their would-be saviour, and the shinobi soon notice that he is a reincarnated shinobi. However, Minato tells them not to worry as he was on their side, and asks Sakura if he were Naruto's girlfriend. Naruto answers bluntly, noting that was more or less the case, prompting Sakura to headbutt him in retaliation for lying to him, though the action reminded Minato of Kushina.
As Naruto notes that he has felt their chakra in Tailed Beast Mode, and that others were coming as well, the shinobi on the battlefield turn in shock to see the three other previous Hokage arrive. With their arrival, both Tobirama and Hiruzen praise Minato for the speed. Madara who can seemingly contain himself, shouts to Hashirama that he had been waiting for him, to which Hashirama notes — with matched exuberance — that he would take care of him later after stopping the Ten-Tails. Calling the other Hokage to action, Minato dons a chakra mantle similar to that of Naruto's, much to the others' shock, and leads his son to brag about his father once again to Kurama who retaliated that it knew this better than he did. With the Hokage all positioned, they perform the Four Red Suns Battle Encampment technique to trap the beast, with Hashirama adding an additional seal, pinning down the beast's tails. Just then Sasuke and Jūgo arrive on the battle, and as the other Konoha 11 members rally around Naruto and Sasuke, some in disbelief, other on the defensive, Sasuke notes that a great deal had happened, and declares that he would become Hokage. Though the others explain this was basically impossible for him who had abandoned the village and committed such heinous crimes, Sasuke simply noted that he didn't care what they thought of him, and that he would change the village. Naruto, all healed, stands beside Sasuke and claims in response that it was he who would actually become Hokage, all of which leads Hashirama to reprimand the two boys telling them to concentrate on the task at hand. Telling Sakura to rest then, he and Sasuke move to the battlefield, though Sakura follows as well, telling them that she was not a weak woman, and had been trained just as well as any of the two of them by a Sannin. This prompts Naruto to note that Team 7 had been reborn as the three look on, prepared to fight.
Latest Episode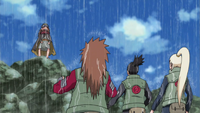 As the shinobi stationed where the sealed Dan Katō is battle the remaining factions of the White Zetsu Army, it suddenly begins raining on the battlefield. Shikamaru Nara spots a shinobi amongst the White Zetsu clones and wonders whether it was yet another reincarnated shinobi. Joined by Chōji, and Ino the trio are shocked to see the familiar face of Yota whom they had met when they were younger. Elsewhere, at the Logistical Support and Medical Division, Sakura also confronts Yota, around whom it is snowing, Kiba and Akamaru also encounter Yota as well, this one, however, creating lightning storms. Read more...

Get the My Wikia App!
With Wikia's official flagship app, My Wikia, you can search for communities and add them to your home screen and read constantly evolving, deep content in a customizable format.
DOWNLOAD NOW FOR FREE!

Did you know?
Naruto is one of the best selling manga of all time having sold more than 113 million copies in Japan?
In TV Asahi's latest top 100 Anime Ranking from October 2006, Naruto ranked 17th on the list?
Naruto: Shippūden has ranked several times as one of most watched series in Japan?
The Naruto anime adaptation won the "Best Full-Length Animation Programme Award" in the Third UStv Awards held in the University of Santo Tomas in Manila, Philippines?
The Naruto anime was listed as the 38th best animated show in IGN's Top 100 Animated Series?
Links
Poll
What's your favourite puppet?
Answers Wiki
Ask a question on Naruto Answers
Springtime Of Youth Wiki
New Pages on Springtime of Youth Wiki
Loading RSS data...