Home
Talk

1k
5,524pages on
this wiki
NOTE: Special:BrowseData lists are now working for older data, but not for newer data. Also, Infobox Jutsu/Tool lists are missing items. We do ask that you bear with us as the issues are addressed. For more information please see this blog post.
Synopsis
Twelve years before the start of the series, the Nine-Tailed Demon Fox attacked Konohagakure destroying much of the village and taking many lives. The leader of the village, the Fourth Hokage sacrificed his life to seal the Nine-Tails into a newborn, Naruto Uzumaki. Orphaned by the attack, Naruto was shunned by the villagers, who out of fear and anger, viewed him as the Nine-Tails itself. Though the Third Hokage outlawed speaking about anything related to the Nine-Tails, the children — taking their cues from their parents — inherited the same animosity towards Naruto. In his thirst to be acknowledged, Naruto vowed he would one day become the greatest Hokage the village had ever seen. Read more...
Latest Chapter
The previous Hokage all bid farewell to those around them entrusting the shinobi world to those before them. As the tailed beasts all decide what they would do next, Hagoromo informs them that since a small part of each of their chakra is now inside Naruto, they can communicate with each other, with him serving as a "meeting ground" of sorts, and asks Kurama to watch over it. Hagoromo then asks both Naruto and Sasuke if their answers to him have changed since their battle with his mother, Naruto explains that his mother was truly a good person and comparing her to Kaguya, he felt as if she never had a heart to begin with. Read more...
Latest Episode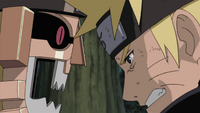 After Mecha-Naruto defeats Shikamaru, it intercepts the group by firing missiles, forcing them to take a detour into the forest again. Chōji switches places with a transformed Akamaru and attacks Mecha-Naruto with his Human Bullet Tank technique, but Mecha-Naruto knocks Chōji into a river, defeating him. Both Kiba and Akamaru use the Human Beast Combination Transformation: Double-Headed Wolf technique and attack with Fang Over Fang. Mecha Naruto counters this by transforming its own arm into a drill, which overpowers the duo and defeats them. The palanquin then falls over since no one was holding it in the front. Mecha-Naruto attacks again, but Neji stops it using the Eight Trigrams Palms Revolving Heaven technique. Mecha-Naruto tries blasting the rotating shield with lasers, but to no effect. Read more...
Get the My Wikia App!
With Wikia's official flagship app, My Wikia, you can search for communities and add them to your home screen and read constantly evolving, deep content in a customizable format.
DOWNLOAD NOW FOR FREE!

Did you know?
Naruto is one of the best selling manga of all time having sold more than 113 million copies in Japan?
In TV Asahi's latest top 100 Anime Ranking from October 2006, Naruto ranked 17th on the list?
Naruto: Shippūden has ranked several times as one of most watched series in Japan?
The Naruto anime adaptation won the "Best Full-Length Animation Programme Award" in the Third UStv Awards held in the University of Santo Tomas in Manila, Philippines?
The Naruto anime was listed as the 38th best animated show in IGN's Top 100 Animated Series?
Poll
Who's your favourite Mizukage?
Have a question?
Ask a question on Naruto Answers