Home
Talk

1k
5,467pages on
this wiki
Synopsis
Main article: Plot of Naruto
Twelve years before the start of the series, the Nine-Tailed Demon Fox attacked Konohagakure destroying much of the village and taking many lives. The leader of the village, the Fourth Hokage sacrificed his life to seal the Nine-Tails into a newborn, Naruto Uzumaki. Orphaned by the attack, Naruto was shunned by the villagers, who out of fear and anger, viewed him as the Nine-Tails itself. Though the Third Hokage outlawed speaking about anything related to the Nine-Tails, the children — taking their cues from their parents — inherited the same animosity towards Naruto. In his thirst to be acknowledged, Naruto vowed he would one day become the greatest Hokage the village had ever seen.
Latest Chapter
Kakashi asks the crumbling Obito why he would sacrifice himself when he was still necessary in battle, but the silent Uchiha muses that Kakashi was the one needed to support the next generation, before telling his comrade to focus on the enemy. Kaguya decides to return to her first dimension while she replenishes her chakra, but when Naruto tries to use his abilities to save Obito, Black Zetsu launches a tirade not only about Naruto's futile efforts, but what he believes to be Obito's wasted life; and though Obito agrees to this, Zetsu's words do nothing but infuriate the touring Uzumaki. Read more...
Latest Episode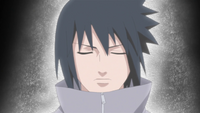 After Madara's Susanoo-clad Kurama was shattered by a thousand punches, he and Hashirama managed to face each other directly. As Hashirama fell, Madara noted that unlike all the other times, he was the one left standing. As Hashirama tried to speak reason to his former comrade and Madara constantly ridiculed the dream they once shared, Hashirama pierces Madara from behind with a sword revealing that it was only a wood clone that fell and not Hashirama himself. Declaring that he would protect his village believing it to be the best way to protect shinobi, and that anyone that tried to destroy that would receive no forgiveness from him. As Madara fell, Hashirama resolved himself to endure in order to protect his dream while Madara, still resolute, declared that he would one day become darkness which enveloped the village. Read more...
Did you know?
Naruto is one of the best selling manga of all time having sold more than 113 million copies in Japan?
In TV Asahi's latest top 100 Anime Ranking from October 2006, Naruto ranked 17th on the list?
Naruto: Shippūden has ranked several times as one of most watched series in Japan?
The Naruto anime adaptation won the "Best Full-Length Animation Programme Award" in the Third UStv Awards held in the University of Santo Tomas in Manila, Philippines?
The Naruto anime was listed as the 38th best animated show in IGN's Top 100 Animated Series?
Links
Poll
Who's your favourite member of Team Guy?
Answers Wiki
Ask a question on Naruto Answers
Springtime Of Youth Wiki