Synopsis
Main article: Plot of Naruto
Twelve years before the start of the series, the Nine-Tails attacked Konohagakure destroying much of the village and taking many lives. The leader of the village, the Fourth Hokage sacrificed his life to seal the Nine-Tails into a newborn, Naruto Uzumaki. Orphaned by the attack, Naruto was shunned by the villagers, who out of fear and anger, viewed him as the Nine-Tails itself. Though the Third Hokage outlawed speaking about anything related to the Nine-Tails, the children — taking their cues from their parents — inherited the same animosity towards Naruto. In his thirst to be acknowledged, Naruto vowed he would one day become the greatest Hokage the village had ever seen.
Latest Chapter
As Sarada's punch sends many enemies flying, Naruto and his clones scare the other opponents by showing them a glimpse of who's inside his body. Chōchō compliments Sarada's strength, with the other kunoichi questioning her father about his feelings for her mother. Sasuke merely answers that he and Sakura have Sarada. After returning to Konoha, Shin's clones are brought to the Konoha Orphanage, where Kabuto presents himself as their new father, with Urushi at his side thinking about whether to give a name to every one of them. Read more...
Latest Episode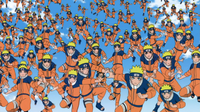 Tsunade's reading is interrupted when her candle burns out. Shizune replaces it and asks her not to overdo it. Jiraiya battles the four-tailed Naruto, who destroys his Chakra-Suppressing Seal. He manages to immobilise Naruto. Jiraiya thinks back to Gamamaru's prophecy. Sasuke thinks back to being unfavourably compared to Itachi by their father and begins fighting Sasori's puppets. Read more...
Did you know?
Naruto is one of the best selling manga of all time having sold more than 113 million copies in Japan?
In TV Asahi's latest top 100 Anime Ranking from October 2006, Naruto ranked 17th on the list?
Naruto: Shippūden has ranked several times as one of most watched series in Japan?
The Naruto anime adaptation won the "Best Full-Length Animation Programme Award" in the Third UStv Awards held in the University of Santo Tomas in Manila, Philippines?
The Naruto anime was listed as the 38th best animated show in IGN's Top 100 Animated Series?
Links
Poll
Who's your favourite member of Team Asuma?
Answers Wiki
Template:AnswersWiki
Springtime Of Youth Wiki
Template:SOYWiki