NOTE: Special:BrowseData lists are now working for older data, but not for newer data. Also, Infobox Jutsu/Tool lists are missing items. We do ask that you bear with us as the issues are addressed. For more information please see this blog post.
Synopsis
Twelve years before the start of the series, the Nine-Tailed Demon Fox attacked Konohagakure destroying much of the village and taking many lives. The leader of the village, the Fourth Hokage sacrificed his life to seal the Nine-Tails into a newborn, Naruto Uzumaki. Orphaned by the attack, Naruto was shunned by the villagers, who out of fear and anger, viewed him as the Nine-Tails itself. Though the Third Hokage outlawed speaking about anything related to the Nine-Tails, the children — taking their cues from their parents — inherited the same animosity towards Naruto. In his thirst to be acknowledged, Naruto vowed he would one day become the greatest Hokage the village had ever seen. Read more...
Latest Chapter
Wasting no time to leap into battle, Kakashi uses his Susanoo to create Kamui-based shuriken and negate Kaguya's chakra-absorbing beast arms. Kaguya finally regains control of her power and transforms, emerging from her beast form and creating a large Truth-Seeking Ball intent on erasing everything from her core dimension. Kakashi calls his former students to him, and gives them details on what will most likely be their last mission as a team. Read more...
Latest Episode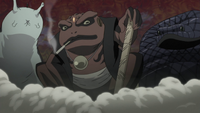 As the newly reformed Team 7 mobilizes to battle, Hashirama first warns the Alliance due to Ten-Tails' another round of Tailed Beast Ball attack. The ball launches to the barrier but is unsuccessful. Hashirama creates five clones of himself, four of them will open the barrier creating an access to the Alliance for making attacks on the Ten-Tails. The other wood clone confronts Madara but demanding for the real Hashirama because using a clone is not "fun". As the Alliance goes inside the barrier, the Ten-Tails creates an army of monsters to defend himself from the attack. Sakura recalls her previous missions as she thought she is being left out due to the immense competition of Naruto and Sasuke and pursues to become capable like them. Her training with Tsunade made her stronger and learned one of Tsunade's jutsu to amplify her strength. Back on the battle with the monsters of Ten Tails, other shinobi of Konoha 11 make resolve for themselves to become stronger as well but Ten Tails constantly creates bigger and powerful monsters which Hashirama noted. Sai, who is also determined to become capable and stronger, decides to attack Ten Tails' head but is unsuccessful and being saved by Naruto. Sai discloses his worries and Team 7 summons their corresponding beasts to accompany them in the battlefield. Read more...
Get the My Wikia App!
With Wikia's official flagship app, My Wikia, you can search for communities and add them to your home screen and read constantly evolving, deep content in a customizable format.
DOWNLOAD NOW FOR FREE!

Did you know?
Naruto is one of the best selling manga of all time having sold more than 113 million copies in Japan?
In TV Asahi's latest top 100 Anime Ranking from October 2006, Naruto ranked 17th on the list?
Naruto: Shippūden has ranked several times as one of most watched series in Japan?
The Naruto anime adaptation won the "Best Full-Length Animation Programme Award" in the Third UStv Awards held in the University of Santo Tomas in Manila, Philippines?
The Naruto anime was listed as the 38th best animated show in IGN's Top 100 Animated Series?
Poll
What's your favourite Three-Way summoned by the Sannin?
Have a question?
Ask a question on Naruto Answers