Synopsis
Main article: Plot of Naruto
Twelve years before the start of the series, the Nine-Tailed Demon Fox attacked Konohagakure destroying much of the village and taking many lives. The leader of the village, the Fourth Hokage sacrificed his life to seal the Nine-Tails into a newborn, Naruto Uzumaki. Orphaned by the attack, Naruto was shunned by the villagers, who out of fear and anger, viewed him as the Nine-Tails itself. Though the Third Hokage outlawed speaking about anything related to the Nine-Tails, the children — taking their cues from their parents — inherited the same animosity towards Naruto. In his thirst to be acknowledged, Naruto vowed he would one day become the greatest Hokage the village had ever seen.
Latest Chapter
Giving their opponent no time to relent, Sasuke engulfs Madara in the flames of Amaterasu. Simply absorbing the flames, Naruto — though puzzled as to why their opponent had closed his eyes — notes that uncoordinated attacks wouldn't work on Madara. Emerging unscathed from the flames, Madara turns his attention to Hashirama whom he reminds of the last conversation they had at the Naka Shrine; revealing that he believed that only the power of the Uchiha and Senju could bring true bliss. Launching his counterattack, Madara knocks both Naruto and Sai aside and uses the stakes he had embedded in Hashirama earlier to immobilise his target. Using this opportunity, Madara absorbs Hashirama's senjutsu chakra which reflects on the face of Hashirama jutting out of his chest. Read more...
Latest Episode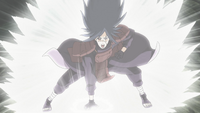 All across the battlefields, the reincarnated shinobi are being released from the Impure World Reincarnation respectively — which leads Tobi to note Kabuto's failure. Naruto and Killer B take the ascending souls of the previous jinchūriki as a sign of Itachi's success. Meanwhile, the Kage wonder what was happening, to which Ōnoki notes that that without a doubt, someone has stopped the Impure World Reincarnation technique and whomever that did so, is a hero to the shinobi world. Elsewhere, Dan uses his Spirit Transformation Technique to take control of his then-ascending soul in order to fly to Tsunade's location. Read more...
Did you know?
Naruto is one of the best selling manga of all time having sold more than 113 million copies in Japan?
In TV Asahi's latest top 100 Anime Ranking from October 2006, Naruto ranked 17th on the list?
Naruto: Shippūden has ranked several times as one of most watched series in Japan?
The Naruto anime adaptation won the "Best Full-Length Animation Programme Award" in the Third UStv Awards held in the University of Santo Tomas in Manila, Philippines?
The Naruto anime was listed as the 38th best animated show in IGN's Top 100 Animated Series?
Links
Poll
What's your favourite sub type of jutsu?
Answers Wiki
Ask a question on Naruto Answers
Springtime Of Youth Wiki