Synopsis
Main article: Plot of Naruto
Twelve years before the start of the series, the Nine-Tailed Demon Fox attacked Konohagakure destroying much of the village and taking many lives. The leader of the village, the Fourth Hokage sacrificed his life to seal the Nine-Tails into a newborn, Naruto Uzumaki. Orphaned by the attack, Naruto was shunned by the villagers, who out of fear and anger, viewed him as the Nine-Tails itself. Though the Third Hokage outlawed speaking about anything related to the Nine-Tails, the children — taking their cues from their parents — inherited the same animosity towards Naruto. In his thirst to be acknowledged, Naruto vowed he would one day become the greatest Hokage the village had ever seen.
Latest Chapter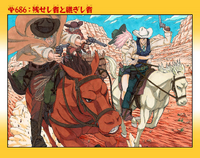 Hagoromo's spirit informs the Hokage of the events that transpired after the Infinite Tsukuyomi was cast. He also informs them that due to Madara's lower half still containing Yang-Kurama's as well as both Indra's and Asura's chakras, they fully combined, resulting in his spirit finally emerging. Minato questions Hagoromo on a technique he told them earlier, but he said it would require a huge amount of chakra, which he does not have at the moment, having given Naruto and Sasuke his chakra earlier. Charging the Hokage before him, he asks them to listen and do what he asks. Read more...
Latest Episode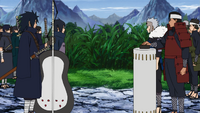 As Hashirama laments on betraying his friend, Butsuma tells Hashirama he has one of two choices: either gather intelligence on the young man and report to them or else be seen as a traitor for his actions. Hashirama begrudgingly accepts his mission but he is intent on helping Madara. The next time they meet, Hashirama and Madara exchange their stones telling each other to escape. Before they have a chance to leave, both their fathers and remaining brothers respectively prepare and engage in battle. Knowing that their power was more or less even, in order to gain the upper-hand, Butsuma and Tajima decided to target Izuna and Tobirama respectively, hoping to use the shock of a parent losing a child before their very eyes as a method to gain an advantage. Their efforts are thwarted however by Hashirama and Madara who both see the attack on their brothers as an unforgivable act. Madara declares that they had reached an impasse, noting that their dreams die there. Read more...
Did you know?
Naruto is one of the best selling manga of all time having sold more than 113 million copies in Japan?
In TV Asahi's latest top 100 Anime Ranking from October 2006, Naruto ranked 17th on the list?
Naruto: Shippūden has ranked several times as one of most watched series in Japan?
The Naruto anime adaptation won the "Best Full-Length Animation Programme Award" in the Third UStv Awards held in the University of Santo Tomas in Manila, Philippines?
The Naruto anime was listed as the 38th best animated show in IGN's Top 100 Animated Series?
Links
Poll
What's your favourite main type of jutsu?
Answers Wiki
Ask a question on Naruto Answers
Springtime Of Youth Wiki