Welcome to Narutopedia.
We are currently editing over 5,531 articles and 7,123 images and you can help.
Be warned that this wiki is filled with SPOILERS about the Naruto series. This is your only warning, read at your own risk!
Due to the MediaWiki upgrade many parts of the site will appear broken such as filterable lists and infoboxes. We do ask that you bear with us as the issues are addressed.
Synopsis
Main article: Plot
Twelve years before the start of the series, the Nine-Tailed Demon Fox attacked Konohagakure destroying much of the village and taking many lives. The leader of the village, the Fourth Hokage sacrificed his life to seal the Nine-Tails into a newborn, Naruto Uzumaki. Orphaned by the attack, Naruto was shunned by the villagers, who out of fear and anger, viewed him as the Nine-Tails itself. Though the Third Hokage outlawed speaking about anything related to the Nine-Tails, the children — taking their cues from their parents — inherited the same animosity towards Naruto. In his thirst to be acknowledged, Naruto vowed he would one day become the greatest Hokage the village had ever seen.
Latest Chapter
After Sasuke seals the Tailed Beasts, Naruto asks to let them go, saying that they won't cause trouble anymore. Sasuke replies that after he uses them to end the Infinite Tsukuyomi, he plans to eliminate all traces of the tailed beasts, including Naruto, and beckons to follow him. Kakashi tries to go after him, but is still fatigued from the previous fight. Sakura tries one last time to convince Sasuke into coming back to the village, but ultimately results in Sasuke casting a genjutsu on her, knocking her out immediately. As Kakashi tries to plead to Sasuke about how much Sakura loves him even after everything he had done, he simply dismisses it and leaves. Naruto tells Kakashi of the promise he made long ago with Sakura before leaving in pursuit. Hagoromo, staying behind with Kakashi and the unconscious Sakura, tells Kakashi about his sons and how he regretted his actions in unintentionally making the two brothers fight. Read more...
Latest Episode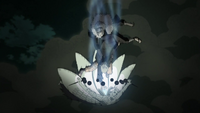 Tobirama saves Naruto, Sasuke, and Minato by teleporting the Truth-Seeking Ball about to explode back at Obito, having previously tagged him for his Flying Thunder God Technique. Naruto praises Tobirama for using his father's technique so well, and Tobirama explains that the technique is his. Elsewhere, Madara and Hashirama battle, leaving other Allied shinobi struck in awe by their powers. Shikamaru raises the shinobi's morale, assuring them they will be needed. Madara declares to Hashirama that this battle will have a different outcome from their last battle. Minato intends to create an opening with his technique, and Tobirama berates him on his technique naming. Sasuke uses Amaterasu, but Obito deflects the attack, having sensed the chakra gathering in Sasuke's left eye. Tobirama and Minato mark each other. Naruto and Sasuke charge at Obito, combining their Rasenshuriken and Kagutsuchi. Tobirama teleports behind Obito and Minato teleports in front of Naruto and Sasuke's attack. They switch positions, and Naruto and Sasuke's attack connects with Obito, who is left without his Truth-Seeking Balls. Sakura sees the black flames from the attack and asks Hinata what happened, and she tells the latter Naruto and Sasuke are smiling. Read more...
Did you know?
Naruto is one of the best selling manga of all time having sold more than 113 million copies in Japan?
In TV Asahi's latest top 100 Anime Ranking from October 2006, Naruto ranked 17th on the list?
Naruto: Shippūden has ranked several times as one of most watched series in Japan?
The Naruto anime adaptation won the "Best Full-Length Animation Programme Award" in the Third UStv Awards held in the University of Santo Tomas in Manila, Philippines?
The Naruto anime was listed as the 38th best animated show in IGN's Top 100 Animated Series?
Links
Poll
What is your favourite Naruto movie?