Synopsis
Main article: Plot
Twelve years before the start of the series, the Nine-Tailed Demon Fox attacked Konohagakure destroying much of the village and taking many lives. The leader of the village, the Fourth Hokage sacrificed his life to seal the Nine-Tails into a newborn, Naruto Uzumaki. Orphaned by the attack, Naruto was shunned by the villagers, who out of fear and anger, viewed him as the Nine-Tails itself. Though the Third Hokage outlawed speaking about anything related to the Nine-Tails, the children — taking their cues from their parents — inherited the same animosity towards Naruto. In his thirst to be acknowledged, Naruto vowed he would one day become the greatest Hokage the village had ever seen.
Latest Chapter
Remembering Sasuke's words during their first fight at the Valley of the End about two high class shinobi being able to convey their feelings through their fists, Naruto tries to convince Sasuke to cease fighting, but Sasuke is adamant to kill Naruto. Naruto then questions how Sasuke's revolution will guarantee that the shinobi world does not turn out the same as before to which Sasuke claims he will watch over it eternally as his reincarnations. Sasuke is under the notion that because the threat is gone, the Five Great Shinobi Countries will turn against each other again despite Naruto telling him that the nations had changed. Sasuke summons the satellites he encased each of the tailed beasts in, and begins channelling chakra from each one into his Susanoo. Read more...
Latest Episode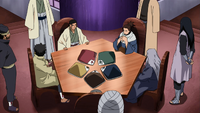 The five Kage are en route to the battlefield atop Gaara's sand. From the distance, they see the tree form of the Ten-Tails and Katsuyu proceeds to explain the current situation. Meanwhile at the battle ground, Shikamaru is struggling to survive after having his chakra absorbed by the holy tree. Sakura then tries to have Katsuyu heal him but her clones also died from the attack. Naruto cries after the witnessing the deaths of his comrades and Obito attempts to break his will once again. Hashirama tells the Alliance not to give up because the fate Obito wanted for them is worse than death. Orochimaru then arrives at the battlefield alongside Suigetsu and Karin. Read more...
Did you know?
Naruto is one of the best selling manga of all time having sold more than 113 million copies in Japan?
In TV Asahi's latest top 100 Anime Ranking from October 2006, Naruto ranked 17th on the list?
Naruto: Shippūden has ranked several times as one of most watched series in Japan?
The Naruto anime adaptation won the "Best Full-Length Animation Program Award" in the Third UStv Awards held in the University of Santo Tomas in Manila, Philippines?
The Naruto anime was listed as the 38th best animated show in IGN's Top 100 Animated Series?
Links
Poll
What is your favourite non-basic nature transformaton?