NOTE: Filterable lists are now working for older data, but not for newer data. We do ask that you bear with us as the issues are addressed.
Synopsis
Main article: Plot of Naruto
Twelve years before the start of the series, the Nine-Tails attacked Konohagakure destroying much of the village and taking many lives. The leader of the village, the Fourth Hokage sacrificed his life to seal the Nine-Tails into a newborn, Naruto Uzumaki. Orphaned by the attack, Naruto was shunned by the villagers, who out of fear and anger, viewed him as the Nine-Tails itself. Though the Third Hokage outlawed speaking about anything related to the Nine-Tails, the children — taking their cues from their parents — inherited the same animosity towards Naruto. In his thirst to be acknowledged, Naruto vowed he would one day become the greatest Hokage the village had ever seen.
Latest Chapter
On Naruto's destroyed face in the Hokage Rock, Boruto faces off against Kawaki. Overlooking a destroyed Konohagakure, Kawaki declares the age of shinobi over. Donning his damaged forehead protector and activating his Byakugan, Boruto points out he is still a shinobi, and charges towards Kawaki. Boruto thinks back on his history, from a time he himself resented shinobi, more specifically his father, who he believed did not pay enough attention to his family on account of being Hokage. Boruto recalls a mission his team was assigned, subduing a bear. Read more...
Latest Episode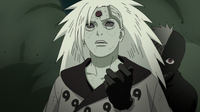 While carrying out Akatsuki's mission, Itachi learns about Sasuke's state of being, as well as learning of Naruto's existence. He learns Sasuke has awakened his Sharingan, and learned Chidori from Kakashi. At a latter occasion, he questions Naruto about how he would measure the safety of Konohagakure against Sasuke's. Sasuke finishes reminiscing on Itachi's memories. Meanwhile, back on the battlefield, the light of the Infinite Tsukuyomi fades and Sasuke dispels his protective Susanoo barrier. Read more...
Did you know?
Naruto is one of the best selling manga of all time having sold more than 113 million copies in Japan?
In TV Asahi's latest top 100 Anime Ranking from October 2006, Naruto ranked 17th on the list?
Naruto: Shippūden has ranked several times as one of most watched series in Japan?
The Naruto anime adaptation won the "Best Full-Length Animation Programme Award" in the Third UStv Awards held in the University of Santo Tomas in Manila, Philippines?
The Naruto anime was listed as the 38th best animated show in IGN's Top 100 Animated Series?
Links
Poll
What do you think of Saskue's decision to protect the village?
Answers Wiki
Template:AnswersWiki
Springtime Of Youth Wiki
Template:SOYWiki