NOTE: Due to the MediaWiki upgrade many lists on the site may appear incomplete such as new data on filterable lists. We do ask that you bear with us as the issues are addressed. For more information please see this blog post.
Synopsis
Twelve years before the start of the series, the Nine-Tailed Demon Fox attacked Konohagakure destroying much of the village and taking many lives. The leader of the village, the Fourth Hokage sacrificed his life to seal the Nine-Tails into a newborn, Naruto Uzumaki. Orphaned by the attack, Naruto was shunned by the villagers, who out of fear and anger, viewed him as the Nine-Tails itself. Though the Third Hokage outlawed speaking about anything related to the Nine-Tails, the children — taking their cues from their parents — inherited the same animosity towards Naruto. In his thirst to be acknowledged, Naruto vowed he would one day become the greatest Hokage the village had ever seen. Read more...
Featured Chapter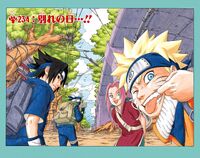 Kakashi regrets the way things have turned out and gathers up Naruto. Because of the rain he has lost Sasuke's trail, so he carries Naruto back to Konoha. Sasuke staggers towards Orochimaru, having decided not to kill Naruto. Although that would have given him strength in the form of the Mangekyō Sharingan, acquiring it would have been what Itachi wanted, which Sasuke is not willing to do. Kakashi marvels at the choice of location for Naruto and Sasuke's battle: the Valley of the End. Their battle being much like the one that formed the valley, Kakashi wonders if battles like this will continue forever. Meanwhile, an Akatsuki member emerges from the ground and comments on the battle.
Contribute to this Wiki!
To create a new article, simply enter the article title in the box below:
Trouble getting started?
If you are new to wikis, check Help:Getting Started
Don't be afraid to just jump in and start it! Others can edit and improve whatever you write.
Check out the community portal to see what the community is working on, to give feedback or to just stop-by and say hi.
Help the wiki by editing article stubs or improving a random page.
Recent Discussions
Did you know?
Naruto is one of the best selling manga of all time having sold more than 113 million copies in Japan?
In TV Asahi's latest top 100 Anime Ranking from October 2006, Naruto ranked 17th on the list?
Naruto: Shippūden has ranked several times as one of most watched series in Japan?
The Naruto anime adaptation won the "Best Full-Length Animation Programme Award" in the Third UStv Awards held in the University of Santo Tomas in Manila?
The Naruto anime was listed as the 38th best animated show in IGN's Top 100 Animated Series?
Poll
Who's your favourite type of Zetsu
Have a question?
Ask a question on Naruto Answers