NOTE: Due to the MediaWiki upgrade, many lists on the site may appear incomplete such as new data on filterable lists. We do ask that you bear with us as the issues are addressed. For more information please see this blog post.
Synopsis
Twelve years before the start of the series, the Nine-Tailed Demon Fox attacked Konohagakure destroying much of the village and taking many lives. The leader of the village, the Fourth Hokage sacrificed his life to seal the Nine-Tails into a newborn, Naruto Uzumaki. Orphaned by the attack, Naruto was shunned by the villagers, who out of fear and anger, viewed him as the Nine-Tails itself. Though the Third Hokage outlawed speaking about anything related to the Nine-Tails, the children — taking their cues from their parents — inherited the same animosity towards Naruto. In his thirst to be acknowledged, Naruto vowed he would one day become the greatest Hokage the village had ever seen. Read more...
Featured Chapter
After a short talk with an Iwa shinobi, Sakura is shown pondering her feelings for Sasuke. The Iwa-nin leaves the tent. "Neji " enters the tent and startles Sakura. Itachi and Nagato discuss Tobi's strategy while waiting near a shrine, and the real Neji is seen still in the battlefield, complaining to Kiba that he doesn't want to go to the the medical compound. Kiba tells Neji that getting himself killed from overexertion won't impress anyone, and chides Neji when he can't even tell Kiba and Akamaru apart when he starts directing his responses to Akamaru instead of him. Hinata and Shino keep on watch with the Byakugan and kikaichū respectively. Shino tells her not to overdo it, to which Hinata responds that they are fighting the war to protect Naruto. "Neji " asks Sakura where Shizune is, and she tells him she's tending to Tonton's leg. "Neji", assuming Tonton is a human, says that at least a leg injury is better than a hand injury, which would prevent Tonton from forming seals, arousing Sakura's suspicion that something with Neji is amiss. He asks her to take a look at his arm, which he claims is still causing him pain, simultaneously reaching for a kunai with his free hand, when Sakura slams him into the ground before he can stab her. The "Neji " reverts into a White Zetsu clone, and recalling Yamato's report, Sakura figures out how the clone was able to imitate Neji perfectly. She then informs the HQ of her findings. Meanwhile, the White Zetsu continue their assassinations under the cover of night. At the headquarters, Inoichi and Ao relay the reports they receive to Shikaku, and he tries to formulate a strategy. A and Tsunade then intercept Naruto and Killer B as they head towards the battlefield.
Latest Episode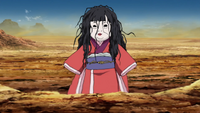 As Team Asuma were taking a different route to bring their set of scrolls to the centre building to avoid being ambushed, Sakura suddenly collapses due to her constant flow of chakra for the Strength of a Hundred Seal. After remembeing her training with Tsunade, she awakens just as her team are confronted by Team Saya. Saya makes it clear that she wants Ino and Sakura to herself, leaving her team-mates, Mamushi and Sana to battle Chōji. Read more...
Contribute to this Wiki!
To create a new article, simply enter the article title in the box below:
Trouble getting started?
If you are new to wikis, check Help:Getting Started
Don't be afraid to just jump in and start it! Others can edit and improve whatever you write.
Check out the community portal to see what the community is working on, to give feedback or to just stop-by and say hi.
Help the wiki by editing article stubs or improving a random page.
Recent Discussions
Did you know?
Naruto is one of the best selling manga of all time having sold more than 113 million copies in Japan?
In TV Asahi's latest top 100 Anime Ranking from October 2006, Naruto ranked 17th on the list?
Naruto: Shippūden has ranked several times as one of most watched series in Japan?
The Naruto anime adaptation won the "Best Full-Length Animation Programme Award" in the Third UStv Awards held in the University of Santo Tomas in Manila?
The Naruto anime was listed as the 38th best animated show in IGN's Top 100 Animated Series?
Poll
Who's your favourite member of Team Ameno
Have a question?
Ask a question on Naruto Answers