NOTE: Due to the MediaWiki upgrade, many lists on the site may appear incomplete such as new data on filterable lists. We do ask that you bear with us as the issues are addressed. For more information please see this blog post.
Synopsis
Twelve years before the start of the series, the Nine-Tailed Demon Fox attacked Konohagakure destroying much of the village and taking many lives. The leader of the village, the Fourth Hokage sacrificed his life to seal the Nine-Tails into a newborn, Naruto Uzumaki. Orphaned by the attack, Naruto was shunned by the villagers, who out of fear and anger, viewed him as the Nine-Tails itself. Though the Third Hokage outlawed speaking about anything related to the Nine-Tails, the children — taking their cues from their parents — inherited the same animosity towards Naruto. In his thirst to be acknowledged, Naruto vowed he would one day become the greatest Hokage the village had ever seen. Read more...
Featured Chapter
Hashirama and Madara continued to meet in this manner by the riverside where they sparred with one another as well as talked about the future. During this time, the two grew closer as friends and worked on improving their weaknesses, all the while not revealing their last names. On one occasion, Madara almost let slip that he was an Uchiha, nearly bragging about the visual prowess which he wielded, as Hashirama feverishly talked about creating a village where the elders would watch over the children who would be brought up to be strong and not carelessly sent to war to die. Hashirama also spoke about creating a system by which shinobi were assigned missions which played to their strengths and skill sets, after both young men relived the loss of their siblings. Creating a greeting method the two boys skipped their rocks across the river to one another until they met again, however, upon returning to the Senju compound, Tobirama informs his brother that their father wanted to speak with him. Revealing that he had tailed them upon their father's request, Butsuma tells his son that the young boy he had been spending his time with was an Uchiha who had killed several of their strongest clansmen on his own. Coaxing his son, Butsuma told Hashirama that he was to gather intelligence on the young man and report to them, else he be seen as a traitor for his actions. Faced with the only other option to kill Madara, the pair met up by the river and, at Madara's behest, skipped their rocks across to one another as a greeting. Reacting, the two boys immediately bid each other farewell, having told one another that a trap had been laid for them via the stones they had skipped to one another. However, both Butsuma Senju and Tajima Uchiha appear on the field accompanied by their sons Tobirama and Izuna respectively. Both Hashirama and Madara who were in the process of fleeing look on as the two sides greeted one another — no love lost between the pair.
Latest Episode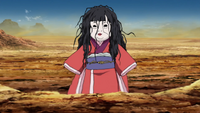 As Team Asuma were taking a different route to bring their set of scrolls to the centre building to avoid being ambushed, Sakura suddenly collapses due to her constant flow of chakra for the Strength of a Hundred Seal. After remembeing her training with Tsunade, she awakens just as her team are confronted by Team Saya. Saya makes it clear that she wants Ino and Sakura to herself, leaving her team-mates, Mamushi and Sana to battle Chōji. Read more...
Contribute to this Wiki!
To create a new article, simply enter the article title in the box below:
Trouble getting started?
If you are new to wikis, check Help:Getting Started
Don't be afraid to just jump in and start it! Others can edit and improve whatever you write.
Check out the community portal to see what the community is working on, to give feedback or to just stop-by and say hi.
Help the wiki by editing article stubs or improving a random page.
Recent Discussions
Did you know?
Naruto is one of the best selling manga of all time having sold more than 113 million copies in Japan?
In TV Asahi's latest top 100 Anime Ranking from October 2006, Naruto ranked 17th on the list?
Naruto: Shippūden has ranked several times as one of most watched series in Japan?
The Naruto anime adaptation won the "Best Full-Length Animation Programme Award" in the Third UStv Awards held in the University of Santo Tomas in Manila?
The Naruto anime was listed as the 38th best animated show in IGN's Top 100 Animated Series?
Poll
Who's your favourite member of Team Ameno
Have a question?
Ask a question on Naruto Answers