Synopsis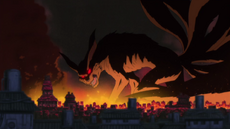 Twelve years before the start of the series, the Nine-Tails attacked Konohagakure, destroying much of the village and taking many lives. The leader of the village, the Fourth Hokage sacrificed his life to seal the Nine-Tails into a newborn, Naruto Uzumaki. Orphaned by the attack, Naruto was shunned by the villagers, who out of fear and anger, viewed him as the Nine-Tails itself. Though the Third Hokage outlawed speaking about anything related to the Nine-Tails, the children — taking their cues from their parents — inherited the same animosity towards Naruto. In his thirst to be acknowledged, Naruto vowed he would one day become the greatest Hokage the village had ever seen. Read more...
Random Chapter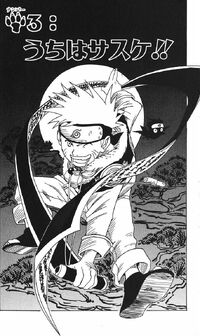 Naruto Uzumaki, having finally passed his graduation exam, heads to the ninja academy to be put into three man squads. He ends up paired with Sakura Haruno, a girl Naruto has a crush on, and Sasuke Uchiha, the person Naruto considers to be his rival. After Sakura shows disappointment at being paired with Naruto, and only happy about being paired with Sasuke, Naruto devises a plan. During lunch Naruto ambushes Sasuke and ties him up, then uses the Transformation Technique to turn into Sasuke. Approaching Sakura as Sasuke, Naruto goes about finding what she thinks of him. Interrupted by having to go to the bathroom (right before he can get a kiss from Sakura), Sasuke manages to get free. Sasuke passes Sakura and she pesters him about their time together a few moments earlier. She then goes about insulting Naruto, and makes fun of him having no parents. Sasuke retorts angrily, saying she makes him sick. Deciding she has been too mean to Naruto, she decides she should try and be nicer to him from now on.
Contribute to this Wiki!
Trouble getting started?
If you are new to wikis, check Help:Getting Started
Don't be afraid to just jump in and start it! Others can edit and improve whatever you write.
Check out the community portal to see what the community is working on, to give feedback or to just stop-by and say hi.
Help the wiki by editing article stubs or improving a random page.
Recent Discussions
Did you know?
Naruto is one of the best selling manga of all time having sold more than 113 million copies in Japan?
In TV Asahi's latest top 100 Anime Ranking from October 2006, Naruto ranked 17th on the list?
Naruto: Shippūden has ranked several times as one of most watched series in Japan?
The Naruto anime adaptation won the "Best Full-Length Animation Programme Award" in the Third UStv Awards held in the University of Santo Tomas in Manila?
The Naruto anime was listed as the 38th best animated show in IGN's Top 100 Animated Series?
Masashi Kishimoto had the ending of the manga planned since 2006.
Poll
Are you excited for the upcoming arc Itachi Shinden Book: Light and Darkness next month?
Have a question?
Ask it on Naruto Answers!