Synopsis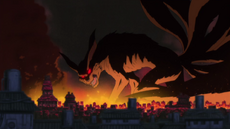 Twelve years before the start of the series, the Nine-Tails attacked Konohagakure, destroying much of the village and taking many lives. The leader of the village, the Fourth Hokage sacrificed his life to seal the Nine-Tails into a newborn, Naruto Uzumaki. Orphaned by the attack, Naruto was shunned by the villagers, who out of fear and anger, viewed him as the Nine-Tails itself. Though the Third Hokage outlawed speaking about anything related to the Nine-Tails, the children — taking their cues from their parents — inherited the same animosity towards Naruto. In his thirst to be acknowledged, Naruto vowed he would one day become the greatest Hokage the village had ever seen. Read more...
Random Chapter
Left to the company of White Zetsu and another with a spiral-like facial pattern, Obito becomes thoroughly annoyed at the duo, who are fascinated with how human bodily functions work — not having the need themselves to eat, drink, or even use the bathroom. Telling them not to lump him in with their lot, Obito notes that only half of him was made of artificial material. Stating that they were supposed to help Obito with his rehabilitation until Madara woke up, the duo began to question Obito about why he kept repeating a bell sound and "stupid Kakashi" during his slumber. After explaining that the third clone had gone outside to gather information and that they were able to move through the earth, the two Zetsu begin to recite Madara's plans for world peace. Disregarding this, Obito once again states his resolve to leave this place and join Rin and Kakashi, thus began his painful rehabilitation while remembering his time with Rin and Kakashi with his memories being trying to kiss a picture of Rin even after taping out Kakashi's face and later after training trying to give Rin a signal that he loves her, only for Obito to discover much to his annoyance that Rin was looking at Kakashi, not Obito. After one training incident that leaves Obito suffering from a wound in his hand, Rin patches him up and tells him it's not good of Obito to hide his wounds because she's looking after him. In the present and after what seems to be a fair amount of time passing, Obito, whose hair has noticeably grown longer, is able to use the artificial limbs perfectly. One day, White Zetsu returned to the hideout and alerted Obito that his comrades were in danger, surrounded by Kirigakure shinobi. Leaping into action, Obito tries to break out of the cave, but only manages to crack the rock and tear off his right arm. The spiral-patterned Zetsu offers up himself as a suit of sorts and encases the young Uchiha, who prepares to head out.
Latest Episode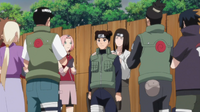 | | |
| --- | --- |
| | This article is a stub. You can help the Narutopedia by expanding it, or perhaps you could contribute to the discussion on the topic. |
Contribute to this Wiki!
Trouble getting started?
If you are new to wikis, check Help:Getting Started
Don't be afraid to just jump in and start it! Others can edit and improve whatever you write.
Check out the community portal to see what the community is working on, to give feedback or to just stop-by and say hi.
Help the wiki by editing article stubs or improving a random page.
Recent Discussions
Did you know?
Naruto is one of the best selling manga of all time having sold more than 113 million copies in Japan?
In TV Asahi's latest top 100 Anime Ranking from October 2006, Naruto ranked 17th on the list?
Naruto: Shippūden has ranked several times as one of most watched series in Japan?
The Naruto anime adaptation won the "Best Full-Length Animation Programme Award" in the Third UStv Awards held in the University of Santo Tomas in Manila?
The Naruto anime was listed as the 38th best animated show in IGN's Top 100 Animated Series?
Poll
Who's your favourite movie canon antagonist?
Have a question?
Ask it on Naruto Answers!