Synopsis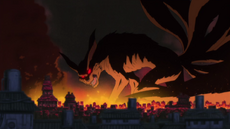 Twelve years before the start of the series, the Nine-Tails attacked Konohagakure, destroying much of the village and taking many lives. The leader of the village, the Fourth Hokage sacrificed his life to seal the Nine-Tails into a newborn, Naruto Uzumaki. Orphaned by the attack, Naruto was shunned by the villagers, who out of fear and anger, viewed him as the Nine-Tails itself. Though the Third Hokage outlawed speaking about anything related to the Nine-Tails, the children — taking their cues from their parents — inherited the same animosity towards Naruto. In his thirst to be acknowledged, Naruto vowed he would one day become the greatest Hokage the village had ever seen. Read more...
Random Chapter
Itachi tries to make casual conversation with Sasuke, who instead attacks him. Impressed by how much stronger he has become, Itachi makes arrangements for them to meet in person before his clone disperses. In Konoha, Jiraiya sets out for Amegakure to investigate Akatsuki. Tsunade warns him to be careful and asks to request her help if things get difficult. Jiraiya points out that, as Hokage, Konoha needs her, but she responds that Naruto will inevitably replace her in the position. They discuss Naruto's similarities to his parents, Kushina Uzumaki and Minato Namikaze. Having taught Minato, Jiraiya says that he feels like Naruto is his grandson. He warns Tsunade about Danzō before leaving. He arrives in Amegakure but is immediately detected by Pain.
Latest Episode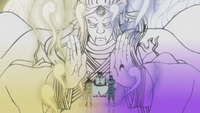 Hagoromo reveals to Naruto he's the reincarnation of his younger son, Asura. He asks Naruto if he can guess who Indra's reincarnation is, and Naruto correctly concludes it's Sasuke. At the same time, Hagoromo has the same conversation with Sasuke, revealing his status as Indra's reincarnation, and having him realise Naruto is Asura's. Hagoromo goes on to explain that Hashirama and Madara are the previous reincarnations, and that by taking Hashirama's power, Madara recreated Hagoromo's chakra, awakening the Rinnegan, despite leaving Indra's descendants instructions against it. Hagoromo explains that his mother Kaguya used her powerful dōjutsu to rule over humanity, and that Madara is on his way to acquiring that same power. Hagoromo asks Naruto to stop Madara, who accepts his request. The chakra of the tailed beasts converge, and Hagoromo notes the prophecy he heard long ago has come true. As entrusting only Asura had created so much conflict, Hagoromo asks Sasuke to cooperate as well, and entrusts both Naruto and Sasuke with his powers. Read more...
Contribute to this Wiki!
To create a new article, simply enter the article title in the box below:
Trouble getting started?
If you are new to wikis, check Help:Getting Started
Don't be afraid to just jump in and start it! Others can edit and improve whatever you write.
Check out the community portal to see what the community is working on, to give feedback or to just stop-by and say hi.
Help the wiki by editing article stubs or improving a random page.
Recent Discussions
Did you know?
Naruto is one of the best selling manga of all time having sold more than 113 million copies in Japan?
In TV Asahi's latest top 100 Anime Ranking from October 2006, Naruto ranked 17th on the list?
Naruto: Shippūden has ranked several times as one of most watched series in Japan?
The Naruto anime adaptation won the "Best Full-Length Animation Programme Award" in the Third UStv Awards held in the University of Santo Tomas in Manila?
The Naruto anime was listed as the 38th best animated show in IGN's Top 100 Animated Series?
Poll
Who's your favourite member of Team Konohamaru?
Have a question?
Ask it on Naruto Answers!