Synopsis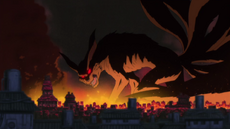 Twelve years before the start of the series, the Nine-Tails attacked Konohagakure, destroying much of the village and taking many lives. The leader of the village, the Fourth Hokage sacrificed his life to seal the Nine-Tails into a newborn, Naruto Uzumaki. Orphaned by the attack, Naruto was shunned by the villagers, who out of fear and anger, viewed him as the Nine-Tails itself. Though the Third Hokage outlawed speaking about anything related to the Nine-Tails, the children — taking their cues from their parents — inherited the same animosity towards Naruto. In his thirst to be acknowledged, Naruto vowed he would one day become the greatest Hokage the village had ever seen. Read more...
Featured Chapter
With Hashirama finishing his story, Sasuke iterated how ironic it was that his brother Itachi, who was from the Uchiha clan, and had never heard Hashirama's story directly from the source, was the one who had inherited his will so strongly. However Tobirama notes that there had been several Uchiha throughout history which had transcended the limitations of their clan and put the village first. One such person who stood out in his mind was Kagami Uchiha. Noting that he did not hate the Uchiha, but in his capacity as Second Hokage, had to find a way to mediate between clans and the village's well-being — the former being something he noted his brother foolishly thought would dissipate with the creation of the village system. In turn, both the Third and Fourth, noted that they had fallen short of their predecessor, and the expectations people had of them respectively. Having heard all he needed from the Hokage, Sasuke comes to the conclusion that the village and people that Itachi sacrificed his life to protect should not be wasted, and decides to enter the battlefield in order to follow his brother's will, with Orochimaru following out of interest. Motioning to Tobirama to prepare to transport them, Tobirama informs his brother that they could not do so because they were bound. As they left the Naka Shrine, Suigetsu who decided that fighting alongside who he deemed the four strongest reincarnated shinobi and three monsters was not a viable option tried to slip away, only to be met by a kick from Karin. She yells that she will never forgive him for what he did and Sasuke immediately apologises. Karin, who visibly cannot contain herself, runs up to Orochimaru and tells him that he stabbed her. He recommends that she should cooperate Sasuke for the time being so she reluctantly rubs against Sasuke, saying she has no other choice. As the Hokage prepare to make their way to the main battlefield, Hashirama — who can barely contain his excitement at this point upon seeing the village again — directs his fellow Hokage to their respective faces on the Hokage Rock before declaring that he wanted to know what his old friend had been up to, Tobirama declares that this time he would stop Madara for good, Hiruzen notes that he had not been to war in so long but vows to give his all this time, and Minato, delighted that he will finally meet his son, promises to make up for not being there with a huge surprise.
Latest Episode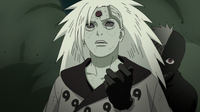 While carrying out Akatsuki's mission, Itachi learns about Sasuke's state of being, as well as learning of Naruto's existence. He learns Sasuke has awakened his Sharingan, and learned Chidori from Kakashi. At a latter occasion, he questions Naruto about how he would measure the safety of Konohagakure against Sasuke's. Sasuke finishes reminiscing on Itachi's memories. Meanwhile, back on the battlefield, the light of the Infinite Tsukuyomi fades and Sasuke dispels his protective Susanoo barrier. Read more...
Contribute to this Wiki!
Trouble getting started?
If you are new to wikis, check Help:Getting Started
Don't be afraid to just jump in and start it! Others can edit and improve whatever you write.
Check out the community portal to see what the community is working on, to give feedback or to just stop-by and say hi.
Help the wiki by editing article stubs or improving a random page.
Did you know?
Naruto is one of the best selling manga of all time having sold more than 113 million copies in Japan?
In TV Asahi's latest top 100 Anime Ranking from October 2006, Naruto ranked 17th on the list?
Naruto: Shippūden has ranked several times as one of most watched series in Japan?
The Naruto anime adaptation won the "Best Full-Length Animation Programme Award" in the Third UStv Awards held in the University of Santo Tomas in Manila?
The Naruto anime was listed as the 38th best animated show in IGN's Top 100 Animated Series?
Masashi Kishimoto had the ending of the manga planned since 2006.
Poll
What's your favourite Naruto Gaiden?
Have a question?
Ask it on Naruto Answers!