NOTE: Due to the MediaWiki upgrade, many lists on the site may appear incomplete such as new data on filterable lists. We do ask that you bear with us as the issues are addressed. For more information please see this blog post.
Synopsis
Twelve years before the start of the series, the Nine-Tailed Demon Fox attacked Konohagakure destroying much of the village and taking many lives. The leader of the village, the Fourth Hokage sacrificed his life to seal the Nine-Tails into a newborn, Naruto Uzumaki. Orphaned by the attack, Naruto was shunned by the villagers, who out of fear and anger, viewed him as the Nine-Tails itself. Though the Third Hokage outlawed speaking about anything related to the Nine-Tails, the children — taking their cues from their parents — inherited the same animosity towards Naruto. In his thirst to be acknowledged, Naruto vowed he would one day become the greatest Hokage the village had ever seen. Read more...
Featured Chapter
Noticing a slight crack on Tobi's mask, Guy and Naruto thought that Naruto's last attack had actually hit the mask; however Kakashi disagrees, noting that the type of crack was not consistent with a punch, but a sharper object. Kakashi then remembers the lightning-imbued kunai he had thrown earlier at Tobi and had warped away with Kamui. B takes the opportunity to strike the Demonic Statue of the Outer Path as it continues to transform into the Ten-Tails, but the attack is deflected when Tobi erected a barrier, rendering the team powerless to strike the statue until they defeated him. After he had finished formulating his strategy, Kakashi then tells the group to aid him in testing his hypothesis. They then leapt unto B's hand, who launched them directly at Tobi, commencing the plan. Guy starts off using his Sōshūga only for Tobi to avoid it using his dematerialisation ability, predicting Guy's moves with his Sharingan. Jeering Tobi, Guy gets the masked man to absorb his nunchaku rendering him tangible. This allows Naruto to follow up quickly by launching a Rasengan, which Tobi phases through, insisting on the futileness of the strategy. However, the Rasengan seemingly dispersed before passing through Tobi, continued by a sudden explosion that inflicted his right arm and hurled him away, having him to get on his feet again thanks to his weapon. Tobi then realised that the attack was transported to the other dimension using Kamui, just as he was about to materialise. Realising Tobi's ability now, Kakashi notes that Tobi was not using two separate techniques to dematerialise and warp things away, but a single technique.
Latest Episode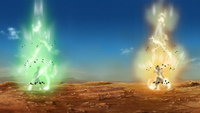 Shira accepts Lee's offer to fight him one on one. The two begin their battle, and as they exchange fierce attacks, both seem to be equally on par with one another. Observing the battle, Neji notes that Lee will sustain more damage due to Shira having a much superior physique. Eventually noticing that he is at a disadvantage, Lee attempts to open the Eight Gates, but finds that he cannot; Shira having blocked his tenketsu, therefore stopping his chakra flow. Read more...
Contribute to this Wiki!
To create a new article, simply enter the article title in the box below:
Trouble getting started?
If you are new to wikis, check Help:Getting Started
Don't be afraid to just jump in and start it! Others can edit and improve whatever you write.
Check out the community portal to see what the community is working on, to give feedback or to just stop-by and say hi.
Help the wiki by editing article stubs or improving a random page.
Recent Discussions
Did you know?
Naruto is one of the best selling manga of all time having sold more than 113 million copies in Japan?
In TV Asahi's latest top 100 Anime Ranking from October 2006, Naruto ranked 17th on the list?
Naruto: Shippūden has ranked several times as one of most watched series in Japan?
The Naruto anime adaptation won the "Best Full-Length Animation Programme Award" in the Third UStv Awards held in the University of Santo Tomas in Manila?
The Naruto anime was listed as the 38th best animated show in IGN's Top 100 Animated Series?
Poll
Who's your favourite member of Team Shira?
Have a question?
Ask a question on Naruto Answers