Synopsis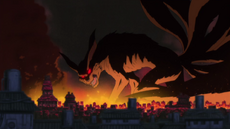 Twelve years before the start of the series, the Nine-Tails attacked Konohagakure, destroying much of the village and taking many lives. The leader of the village, the Fourth Hokage sacrificed his life to seal the Nine-Tails into a newborn, Naruto Uzumaki. Orphaned by the attack, Naruto was shunned by the villagers, who out of fear and anger, viewed him as the Nine-Tails itself. Though the Third Hokage outlawed speaking about anything related to the Nine-Tails, the children — taking their cues from their parents — inherited the same animosity towards Naruto. In his thirst to be acknowledged, Naruto vowed he would one day become the greatest Hokage the village had ever seen. Read more...
Latest Chapter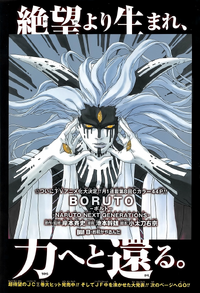 Momoshiki finishes changing from absorbing Kinshiki as the others look on. He releases a massive energy that cuts through the God Tree. He swiftly punches and kicks Darui into one of the branches of the God Tree. He goes after Gaara, who blocks his punch with sand, but Momoshiki's hair goes around it, binding Gaara by his limbs, waist and neck, kneeing him on the back and letting him fall to the ground. He falls near Chōjūrō and Kurotsuchi, his fall allowing Momoshiki to kick Chōjūrō from behind. Kurotsuchi tries punching him, but he blocks it, and lands a punch of his own on her chest, causing her to collapse as well. Read more...
Latest Episode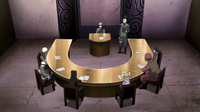 Shikamaru and another shinobi handle documents for Kakashi. Kakashi tells them they should take a break sometimes. During a break, Shikamaru looks at the clouds, and the other shinobi asks if he gets bored with a desk job. The other one tells him he sounds like an old man sometimes. At the end of the day, Shikamaru and Kakashi discuss how things have changed during peace times, and how Shikamaru is doing a desk job so he can help Naruto become Hokage in the future. Kakashi invites Shikamaru to eat, but Shikamaru has a game scheduled with Ōnoki. At the game, Shikamaru beats him. Later that night, Shikamaru trains. Read more...
Contribute to this Wiki!
Trouble getting started?
If you are new to wikis, check Help:Getting Started
Don't be afraid to just jump in and start it! Others can edit and improve whatever you write.
Check out the community portal to see what the community is working on, to give feedback or to just stop-by and say hi.
Help the wiki by editing article stubs or improving a random page.
Recent Discussions
Did you know?
Naruto is one of the best selling manga of all time having sold more than 113 million copies in Japan?
In TV Asahi's latest top 100 Anime Ranking from October 2006, Naruto ranked 17th on the list?
Naruto: Shippūden has ranked several times as one of most watched series in Japan?
The Naruto anime adaptation won the "Best Full-Length Animation Programme Award" in the Third UStv Awards held in the University of Santo Tomas in Manila?
The Naruto anime was listed as the 38th best animated show in IGN's Top 100 Animated Series?
Masashi Kishimoto had the ending of the manga planned since 2006.
Poll
What's your favourite dōjutsu?
Have a question?
Ask it on Naruto Answers!
Ad blocker interference detected!
Wikia is a free-to-use site that makes money from advertising. We have a modified experience for viewers using ad blockers

Wikia is not accessible if you've made further modifications. Remove the custom ad blocker rule(s) and the page will load as expected.