Synopsis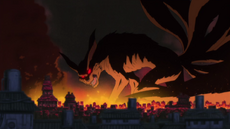 Twelve years before the start of the series, the Nine-Tails attacked Konohagakure, destroying much of the village and taking many lives. The leader of the village, the Fourth Hokage sacrificed his life to seal the Nine-Tails into a newborn, Naruto Uzumaki. Orphaned by the attack, Naruto was shunned by the villagers, who out of fear and anger, viewed him as the Nine-Tails itself. Though the Third Hokage outlawed speaking about anything related to the Nine-Tails, the children — taking their cues from their parents — inherited the same animosity towards Naruto. In his thirst to be acknowledged, Naruto vowed he would one day become the greatest Hokage the village had ever seen. Read more...
Random Chapter
Though Chōji tries to console his best friend, Shikamaru reminds him and Ino that they were in the middle of war and that there was no time for unnecessary conversation, and that they had to carry out his father's strategy. Confused, Naruto begins to question the situation, but before they can explain that Inoichi and Shikaku had been killed, the Ten-Tails attacks once more. Leaping into action, Neji and Hiashi are able to deflect the beast's attack, and as everyone begins to praise the Hyūga clan, Hiashi tells Naruto that he had to focus and that in war people might die, but if they lost the war, everyone would die. As he assures them that Inoichi and Shikaku were proud as shinobi to have died before their children, Neji echoes his uncle's sentiments, referring to his own father's sacrifice. With this Neji, Hiashi, and Hinata declare that they would protect him until the very end. Meanwhile atop the Ten-Tails, Madara and Obito discuss how to proceed with their plans and the fact that in order to become the beast's jinchūriki, Madara required a living body which could only be given by Obito sacrificing his own, which left the legendary Uchiha, at the mercy of his descendant. With Obito deciding to teach the Allied Shinobi Forces despair, the beast begins to attack again, sending wooden projectiles flying towards the shinobi. As the attacks are being deflected from Naruto by the Hyūga, Kitsuchi builds his chakra in preparation to use his signature technique. With the beast's hand itself bearing down on the group, Hiashi uses the Eight Trigrams Vacuum Wall Palm to deflect it. The beast then uses a pin-point attack which Hiashi realises they could not deflect in time. As Hinata throws out her arms to protect Naruto, Neji actually intercepts the attack, and while Naruto calls for the medics, Neji notes that it was already too late. As Hiashi looks on in horror and Hinata cries openly, Naruto questions why a genius from the Hyūga clan would throw away his life for him, and Neji, who notes that he finally understood his father's feelings, states that it was for that exact reason that he did it: because Naruto called him a genius. With this, the juinjutsu on Neji's forehead disappears as it seals away his Byakugan. Obito then taunts Naruto, questioning if it had not been him who stated that he would not let his friends die.
Latest Episode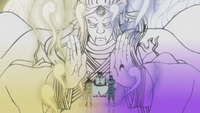 Hagoromo reveals to Naruto that he is the reincarnation of his younger son: Asura. He asks Naruto if he can guess who Indra's reincarnation is, and Naruto correctly concludes it is Sasuke. At the same time, Hagoromo has the same conversation with Sasuke, revealing his status as Indra's reincarnation, and having him realise Naruto is Asura's. Hagoromo goes on to explain that Hashirama and Madara are the previous reincarnations, and that by taking Hashirama's power, Madara recreated Hagoromo's chakra, awakening the Rinnegan, despite leaving Indra's descendants instructions against it. Hagoromo explains that his mother Kaguya used her powerful dōjutsu to rule over humanity, and that Madara is on his way to acquiring that same power. Read more...
Contribute to this Wiki!
To create a new article, simply enter the article title in the box below:
Trouble getting started?
If you are new to wikis, check Help:Getting Started
Don't be afraid to just jump in and start it! Others can edit and improve whatever you write.
Check out the community portal to see what the community is working on, to give feedback or to just stop-by and say hi.
Help the wiki by editing article stubs or improving a random page.
Recent Discussions
Did you know?
Naruto is one of the best selling manga of all time having sold more than 113 million copies in Japan?
In TV Asahi's latest top 100 Anime Ranking from October 2006, Naruto ranked 17th on the list?
Naruto: Shippūden has ranked several times as one of most watched series in Japan?
The Naruto anime adaptation won the "Best Full-Length Animation Programme Award" in the Third UStv Awards held in the University of Santo Tomas in Manila?
The Naruto anime was listed as the 38th best animated show in IGN's Top 100 Animated Series?
Poll
Who's your favourite child of Konoha 11?
Have a question?
Ask it on Naruto Answers!