Synopsis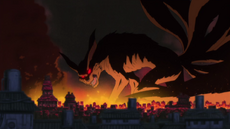 Twelve years before the start of the series, the Nine-Tails attacked Konohagakure, destroying much of the village and taking many lives. The leader of the village, the Fourth Hokage sacrificed his life to seal the Nine-Tails into a newborn, Naruto Uzumaki. Orphaned by the attack, Naruto was shunned by the villagers, who out of fear and anger, viewed him as the Nine-Tails itself. Though the Third Hokage outlawed speaking about anything related to the Nine-Tails, the children — taking their cues from their parents — inherited the same animosity towards Naruto. In his thirst to be acknowledged, Naruto vowed he would one day become the greatest Hokage the village had ever seen. Read more...
Latest Chapter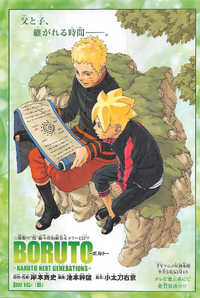 Jigen informs the rest of Kara they have lost the "vessel". Two members lament the wasted time, effort, and money wasted on it. An elder member presumes it was an accident during transportation, and proposes locating and recovering it at once. Another member attributes failure to such a perception, causing the elder to threaten him. Jigen points out that while time loss is something that can be accounted for, this was a case of preventable human error. A female Kara member says it is a discussion on how the responsible party will pay their debt. The elder asks about a still absent member, Amado, a concern shared by Jigen, who decides their plans should go forward as planned over the elder's objections. The elder wishes to mobilise an Outer to collect data on the new scientific ninja weapon, cursing at the situation caused by Momoshiki Ōtsutsuki. Read more...
Contribute to this Wiki!
Trouble getting started?
If you are new to wikis, check Help:Getting Started
Don't be afraid to just jump in and start it! Others can edit and improve whatever you write.
Check out the community portal to see what the community is working on, to give feedback or to just stop-by and say hi.
Help the wiki by editing article stubs or improving a random page.
Recent Updates
Loading RSS data...
Did you know?
Naruto is one of the best selling manga of all time having sold more than 113 million copies in Japan?
In TV Asahi's latest top 100 Anime Ranking from October 2006, Naruto ranked 17th on the list?
Naruto: Shippūden has ranked several times as one of most watched series in Japan?
The Naruto anime adaptation won the "Best Full-Length Animation Programme Award" in the Third UStv Awards held in the University of Santo Tomas in Manila?
The Naruto anime was listed as the 38th best animated show in IGN's Top 100 Animated Series?
Masashi Kishimoto had the ending of the manga planned since 2006.
Poll
What's your favourite original Naruto movie?
Have a question?
Ask it on Naruto Answers!