Synopsis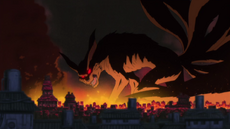 Twelve years before the start of the series, the Nine-Tails attacked Konohagakure, destroying much of the village and taking many lives. The leader of the village, the Fourth Hokage sacrificed his life to seal the Nine-Tails into a newborn, Naruto Uzumaki. Orphaned by the attack, Naruto was shunned by the villagers, who out of fear and anger, viewed him as the Nine-Tails itself. Though the Third Hokage outlawed speaking about anything related to the Nine-Tails, the children — taking their cues from their parents — inherited the same animosity towards Naruto. In his thirst to be acknowledged, Naruto vowed he would one day become the greatest Hokage the village had ever seen. Read more...
Latest Chapter
Hinata and Himawari throw away the broken flower vase, Hinata assuring Himawari that as her mother, what matters most to her are the feelings she put into make it for her. Boruto wakes up and has to go to the bathroom, and meets Kawaki along the way, who's also going to the bathroom. Boruto says he should go first since it's his house, but Kawaki is closer to the door and curses at him, telling him to wait. Boruto grabs him by the shirt, and they almost begin fighting, but from inside the bathroom, Naruto yells at them it's occupied, and tells them to go behind the house. They do it, still trading insults, and begin to fight when they're done, both eventually activating their Kāma. Kawaki feels like this is the only way Boruto will get what he says. Boruto says this is first and last time they'll agree on something. From the bathroom, Naruto creates a shadow clone to stop them, complaining about it. Read more...
Latest Episode
On their way to Ryūchi Cave, Chōchō and Inojin complain about hunger and distance. Boruto reiterates the need to have the White Snake Sage analyse the snake Mitsuki left them. Sarada explains some of what Orochimaru told them about the Ryūchi Cave. She notices footprints on the ground, and discerns they're theirs, realises they've been going in circles. Boruto says they have to keep going. They're watched by three ornately dressed women, who upon noting they're not simply lost, decide to check them out. The genin arrive at a richly decorated gate to Ryūchi Cave, finding it not to be what they expected, and are greeted by a hostess. The hostess introduces herself as Tagorihime, who welcomes them to relax. Boruto asks about the White Snake Sage, and Tagorihime says he's in a temple, and can arrange for Boruto to meet him. Inojin and Chōchō begin to eat, despite Boruto's warnings about what kind of place Ryūchi Cave is supposed to be. Though not as eager, Sarada and Shikadai accept Tagorihime's hospitality, while Boruto remains suspicious. Read more...
Contribute to this Wiki!
Trouble getting started?
If you are new to wikis, check Help:Getting Started
Don't be afraid to just jump in and start it! Others can edit and improve whatever you write.
Check out the community portal to see what the community is working on, to give feedback or to just stop by and say hi.
Help the wiki by editing article stubs or improving a random page.
Forum Activity
Please read the rules
before posting!
Have a question?
Ask it on Naruto Answers!
Poll
Who's your favourite innhabitant of Ryūchi Cave disguised as a human?
Accolades
Naruto is one of the best selling manga of all time having sold more than 113 million copies in Japan.
In TV Asahi's latest top 100 Anime Ranking from October 2006, Naruto ranked 17th.
Naruto: Shippūden has ranked several times as one of most watched series in Japan.
The Naruto anime adaptation won the "Best Full-Length Animation Programme Award" in the Third UStv Awards held in the University of Santo Tomas in Manila.
The Naruto anime was listed as the 38th best animated show in IGN's Top 100 Animated Series.