Synopsis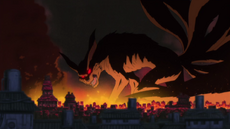 Twelve years before the start of the series, the Nine-Tails attacked Konohagakure, destroying much of the village and taking many lives. The leader of the village, the Fourth Hokage sacrificed his life to seal the Nine-Tails into a newborn, Naruto Uzumaki. Orphaned by the attack, Naruto was shunned by the villagers, who out of fear and anger, viewed him as the Nine-Tails itself. Though the Third Hokage outlawed speaking about anything related to the Nine-Tails, the children — taking their cues from their parents — inherited the same animosity towards Naruto. In his thirst to be acknowledged, Naruto vowed he would one day become the greatest Hokage the village had ever seen. Read more...
Latest Chapter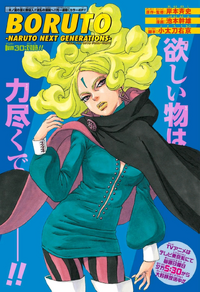 Himawari watches as Kawaki struggles to repair her flower vase. Kawaki considers it a waste of time, and Himawari tells him that going out to buy a new vase was enough for her. Boruto listens to them. Through his toad, Koji watches Kawaki, and determines that while Kawaki is under the Hokage's watch, he can't interfere carelessly, but he doesn't really want to, preferring to see how things unfold between Kawaki and Boruto. Losing her patience, Delta deploys a drone from her back to look for Kawaki, something that doesn't have chakra, so the Yamanaka clan can't sense it. Boruto approaches Kawaki, and offers to help him research their Kāma, though they still exchange insults. Under Naruto's supervision, Boruto and Kawaki both activate their Kāma to fight, while Himawari cheers them both. They fight, and Naruto explains to Himawari about Kawaki's scientific ninja tool body. Satisfied with Kāma's effects on Boruto's physical performance, Kawaki wants to test his absorption capabilities, and fires at him. Read more...
Latest Episode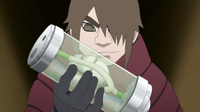 Kū tends to Ōnoki, who tries to dissuade Kū from continuing his plans, but Kū continues to believe Ōnoki's weakness is clouding his judgement. Team 10 is exhausted after fighting Kokuyō and wonder how Boruto and Sarada are faring. Caught in Kirara's genjutsu, she controls their movements like a puppeteer. Sarada tries breaking the genjutsu on Boruto with her Sharingan, but Kirara forces him to close his eyes. She wants to play with them like they're dolls, drawing out their injuries. Ōnoki ponders on Boruto's assessment of the Fabrications' will and Kū's own words and actions. He thinks back to first meeting and naming Kū, as well as the other four Fabrications. Ōnoki tries leaving his room, but his path is blocked by an Akuta. The doctor tends to Sekiei's deterioration, and Sekiei asks him how their lives will be after receiving hearts. He's not concerned about being strong, but with protecting his friends. The doctor leaves Sekiei alone with Mitsuki. Sekiei tells Mitsuki he heard of Kokuyō's and Kakō's deaths, and recounts his feelings about it. He asks Mitsuki how that'll change once he has a heart, and Mitsuki explains having a heart doesn't make one human. Read more...
Contribute to this Wiki!
Trouble getting started?
If you are new to wikis, check Help:Getting Started
Don't be afraid to just jump in and start it! Others can edit and improve whatever you write.
Check out the community portal to see what the community is working on, to give feedback or to just stop by and say hi.
Help the wiki by editing article stubs or improving a random page.
Forum Activity
Please read the rules
before posting!
Have a question?
Ask it on Naruto Answers!
Poll
Who's your favourite user of Shinobi-Ware?
On This Day
2000 releases2001 releases2002 releases