Naruto Shippūden: Ultimate Ninja Storm Revolution
Talk

50
5,391pages on
this wiki
Naruto Shippūden: Ultimate Ninja Storm Revolution is an upcoming game which is being developed by CyberConnect2 and will be published by Namco-Bandai games for the Xbox 360, PlayStation 3, and PC. The North American release is scheduled for September 2014.[1]
Gameplay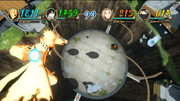 Summing playable and support, there will be 118 characters in the game,[2] including a new addition to the roster drawn by Masashi Kishimoto. The new character designed by Kishimoto is a mecha version of Naruto, which has a two-stage awakening: a three-tails transformation and a Mecha-Kurama transformation. Other characters may also have two-stage awakenings. The game will continue the story from the previous game, as well as feature a separate original story involving Mecha-Naruto. "Combination Ultimate Techniques" (合体奥義, Gattai Ōgi) between two or three characters will be available. The game will also feature a revamped support system. There will also be a Ninja World Tournament mode, that places the player in a battle against three CPUs, the goal is to collect as many orbs battle during combat, as well as new environment interactions. Another new feature, is a brand new storyline which encompasses the past of the Akatsuki and will allow the player to recruit (and even fight) the known members into the Akatsuki, with several new designs exclusively created for the game by Masashi Kishimoto, as well as 46[3] minutes of newly animated footage to go along with the storyline.
Playable Characters
Playable Stages
Team Ultimate Jutsu
This is the list of select teams of characters that have a team ultimate jutsu when paired with each other:
Gallery
Playable Character Costumes
External Link
References
↑ Bandai Namco, accessed April 13th, 2014.
↑ Page source code for the system page in the official site, accessed April 9th, 2014. From the source code: "Playable and support, a total of 118 shinobi to engage in heated battles!" (プレイアブルとサポート、あわせて118名の忍たちが熱い戦いを繰り広げる!, Pureiaburu to sapōto, awasete 118-mei no shinobitachi ga atsui tatakai o kurihirogeru!).
↑ Page source code for the system page in the official site, accessed April 9th, 2014. From the source code: "Total of 46 minutes of game original animation produced by Studio Pierrot!!" (「スタジオぴえろ」制作のゲームオリジナルアニメーションが合計46分!!, "Sutajio Piero" seisaku no gēmu orijinaru animēshon ga gōkei 46-fun!!).