This is the article on the novels. For the secret techniques, head to Hiden.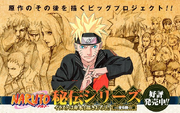 Naruto Hiden (NARUTO -ナルト- 秘伝, Literally meaning: Naruto Secret Chronicles) is a light novel series which explores the stories of various characters after the conclusion of the original manga. Though each book is illustrated by Masashi Kishimoto, they are written by different authors.[1] It's also a part of the Naruto Project. VIZ Media began releasing English translations of the novels in November of 2015.[2]
The Naruto Hiden series is followed by two separated Naruto Shinden series, which the first was publicated in fall of 2015, and the second slated for release from May to July 2018.
Two of these novels (Shikamaru Hiden and Konoha Hiden) were adapted for the Naruto: Shippūden anime in the winter of 2016.
Novels
Timeline
The Weekly Shōnen Jump sets the following order of events:
Several months later
Two years later
Several months later
Sakura Hiden
Konoha Hiden
Several days later
Several months later
Gaara becomes 20 years old.
Gaara Hiden
Akatsuki Hiden
Over ten years later
Notes and References