This is the article on the river. For the shrine, head to Naka Shrine.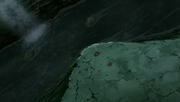 The Naka River (南賀ノ川, Naka no Kawa, Viz: Nakano River, Literally meaning: River of Southern Joy) is a river flowing through Konohagakure. The river is located on the land where the Uchiha clan once lived and prospered[1] and at some point, it passes through a deep ravine. It was at this river that Shisui gave Itachi his Sharingan and "erased his existence", but it was thought that Itachi had drowned him.[2]
References
↑

Second Databook, page 307

↑ Naruto chapter 550, page 11
Ad blocker interference detected!
Wikia is a free-to-use site that makes money from advertising. We have a modified experience for viewers using ad blockers

Wikia is not accessible if you've made further modifications. Remove the custom ad blocker rule(s) and the page will load as expected.