Synopsis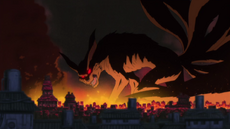 Twelve years before the start of the series, the Nine-Tails attacked Konohagakure, destroying much of the village and taking many lives. The leader of the village, the Fourth Hokage sacrificed his life to seal the Nine-Tails into a newborn, Naruto Uzumaki. Orphaned by the attack, Naruto was shunned by the villagers, who out of fear and anger, viewed him as the Nine-Tails itself. Though the Third Hokage outlawed speaking about anything related to the Nine-Tails, the children — taking their cues from their parents — inherited the same animosity towards Naruto. In his thirst to be acknowledged, Naruto vowed he would one day become the greatest Hokage the village had ever seen. Read more...
Random Chapter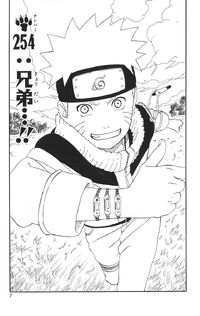 Using the poison removed from Kankurō's body, Sakura makes three antidotes for Sasori's poison, one of which she gives to Kankurō to neutralise any poison still in his system. Conscious again, Kankurō gives Team 7 a piece of Sasori's clothing he obtained during their battle to help them find Gaara's location. Before they leave, Kankurō pleads for Naruto to save his brother. Although Temari is originally to escort Team 7, Chiyo volunteers to go instead, wishing to see Sasori, her grandson. Elsewhere, Sasori and Deidara arrive at an Akatsuki base with Gaara. They meet with their leader, who convenes the other members to extract Shukaku from Gaara's body.
Latest Episode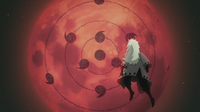 Obito saves Sakura from Madara's attack, sending her back to the real world. She tends to Kakashi's injury, and explains Obito's warning about Madara retrieving his Rinnegan. Naruto finishes sealing Madara's shadow. Madara notices the cursed seal he placed on Obito's heart is gone. Obito tells him he had Kakashi destroy it, and Madara reveals himself as the mastermind behind Rin's death, which meant to turn all the positive feelings Obito had into hatred, moving in to retrieve his Rinnegan. Read more...
Contribute to this Wiki!
Trouble getting started?
If you are new to wikis, check Help:Getting Started
Don't be afraid to just jump in and start it! Others can edit and improve whatever you write.
Check out the community portal to see what the community is working on, to give feedback or to just stop-by and say hi.
Help the wiki by editing article stubs or improving a random page.
Did you know?
Naruto is one of the best selling manga of all time having sold more than 113 million copies in Japan?
In TV Asahi's latest top 100 Anime Ranking from October 2006, Naruto ranked 17th on the list?
Naruto: Shippūden has ranked several times as one of most watched series in Japan?
The Naruto anime adaptation won the "Best Full-Length Animation Programme Award" in the Third UStv Awards held in the University of Santo Tomas in Manila?
The Naruto anime was listed as the 38th best animated show in IGN's Top 100 Animated Series?
Poll
Who's your favourite movie canon antagonist?
Have a question?
Ask it on Naruto Answers!