Synopsis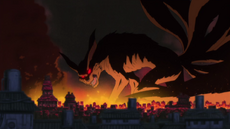 Twelve years before the start of the series, the Nine-Tails attacked Konohagakure, destroying much of the village and taking many lives. The leader of the village, the Fourth Hokage sacrificed his life to seal the Nine-Tails into a newborn, Naruto Uzumaki. Orphaned by the attack, Naruto was shunned by the villagers, who out of fear and anger, viewed him as the Nine-Tails itself. Though the Third Hokage outlawed speaking about anything related to the Nine-Tails, the children — taking their cues from their parents — inherited the same animosity towards Naruto. In his thirst to be acknowledged, Naruto vowed he would one day become the greatest Hokage the village had ever seen. Read more...
Latest Chapter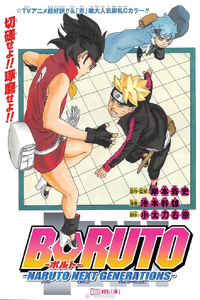 Boruto, Sarada, Mitsuki and Katasuke arrive at the research institute. There, they meet with Sumire Kakei from their Academy days, who is part of the research team. Akita Inuzuka, another research team member, arrives to collect the prosthetic hand from Katasuke, and gushes about it as Katasuke fills her in on information about it. Boruto thinks the mission is done, but Sumire and his teammates tell him there's more to their mission. Boruto was unaware they'd help test the scientific ninja tools because he stormed off the Hokage's office before hearing all about the mission. They first have Boruto and Mitsuki fight against Sarada, who employs a prototype light and smoke bomb that overwhelms them with light and sound. Read more...
Latest Episode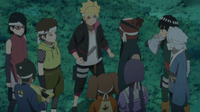 Kakashi has Boruto pinned down in a way that would require Boruto to break his own arm to break free. He admonishes Boruto's lack of resolve and motivation to change, and reveals his Sukea disguise. Kakashi believes Boruto's influence on his classmates to have made them unsuitable to become shinobi. Mitsuki and Iwabee attack Kakashi, forcing him to let go of Boruto to defend himself and counterattack, allowing Boruto to escape with Iwabee's help. At night, several of the students gather, Wasabi healing Boruto, and Boruto wishing she'd look after Mitsuki, who was injured by Kakashi. Boruto tells them of Kakashi's assessment of their class and Boruto's influence, and apologises. Iwabee aggressively tells Boruto he made it this far because of Boruto, something he intends telling Kakashi. Denki and Sumire share Iwabee's opinion. Read more...
Contribute to this Wiki!
Trouble getting started?
If you are new to wikis, check Help:Getting Started
Don't be afraid to just jump in and start it! Others can edit and improve whatever you write.
Check out the community portal to see what the community is working on, to give feedback or to just stop-by and say hi.
Help the wiki by editing article stubs or improving a random page.
External News
Loading RSS data...
Did you know?
Naruto is one of the best selling manga of all time having sold more than 113 million copies in Japan?
In TV Asahi's latest top 100 Anime Ranking from October 2006, Naruto ranked 17th on the list?
Naruto: Shippūden has ranked several times as one of most watched series in Japan?
The Naruto anime adaptation won the "Best Full-Length Animation Programme Award" in the Third UStv Awards held in the University of Santo Tomas in Manila?
The Naruto anime was listed as the 38th best animated show in IGN's Top 100 Animated Series?
Masashi Kishimoto had the ending of the manga planned since 2006.
Poll
Who's your favourite member of the Scientific Ninja Weapons Team?
Have a question?
Ask it on Naruto Answers!