She is a kunoichi and daughter of Asuma Sarutobi and Kurenai Yūhi, as well as a member of Konohagakure's Sarutobi clan.
Background Edit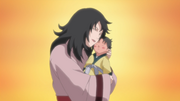 Before Asuma died, Shikamaru Nara promised him that he would look after and train this child.[1]
Appearance Edit
She has black hair and was depicted wearing a simple yellow kimono with blue trimmings, held closed by a simple white sash as an infant.
As a young adult, she wears a Konoha-standard uniform that contains a black attire with a green flak jacket. She has her black Konoha forehead protector around her head. Her black hair is now shaggy and her eyes are similar as her mother's. Presumably, she also wears the standard shinobi sandals, but as her epilogue appearance is purely inside her mother's house, she is only shown to be barefooted.
Epilogue Edit
Many years after the Fourth Shinobi World War, now a young adult and full-fledged kunoichi, she became committed to making her late-father proud. When her mother noticed that she was supposed to escort the Seventh Hokage, she explains that she was going to visit the predecessor to attend him and states it was okay if she shows up late. She also informs that Guy will be there as well and she won't be home for three days.
During a question and answer session held at Tokyo's Jump Fest '09, Masashi Kishimoto stated that he was thinking of making Kurenai and Asuma's child a girl.

It was later decided that this child would be a girl.[2]
References Edit
↑ Naruto chapter 328, pages 8-9
↑ Naruto chapter 700