Kumade Toriichi (酉市クマデ, Toriichi Kumade) was a tokubetsu jōnin of Konohagakure.
Background Edit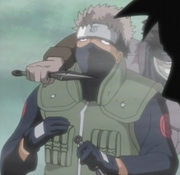 Not much is known about Kumade's life. The anime revealed that he entered the Academy at the same time as Kakashi Hatake and others.[2] At some point in time, Kumade clashed with Zabuza Momochi of Kirigakure. He was however killed by the latter with a combination of the Hiding in Mist Technique and Silent Killing.
Appearance Edit
Kumade had a short, spiky grey hair. He wore the standard attire of the Konoha-nin complete with a forehead protector and flak jacket along with black gloves with metal plates on the backhand. He also wore a mask that covered the lower half of his face making him look a lot like Kakashi.
"Kumade" (熊手) can mean "rake/bamboo rake" and "fork". "Toriichi" is written with the kanji "酉", which can be read as "west", and "市", which means "city".
References Edit
↑ First Databook, page 140
↑ Naruto: Shippūden episode 418