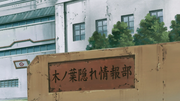 The Konoha Intelligence Division (木ノ葉隠れ情報部, Konohagakure Jōhōbu) is one of the many organisations in Konohagakure.
Overview
The division is headed by Ibiki Morino, who, along with an elite team of shinobi — known as the Konoha Torture and Interrogation Force — deal with acquiring intelligence from shinobi for the benefit of the village. Several shinobi were carried here during the series in order to get intelligence out of them. Yūdachi, who was captured by Jiraiya in Amegakure, was left here in the hands of Ibiki and Inoichi Yamanaka. During Pain's assault on Konoha, the building was destroyed by Deva Path's large-scale Shinra Tensei.
In the aftermath of the assault, a makeshift building was created to temporarily house the division. After Taka's attack on the Kage Summit, Karin was later jailed here where she was eventually interrogated by Ibiki himself and escaped. After the Fourth Shinobi World War, Sasuke Uchiha was imprisoned for his crimes for almost a year until he was granted a pardon by the Sixth Hokage.
Ad blocker interference detected!
Wikia is a free-to-use site that makes money from advertising. We have a modified experience for viewers using ad blockers

Wikia is not accessible if you've made further modifications. Remove the custom ad blocker rule(s) and the page will load as expected.