Ichigen (一見, Ichigen) was a young monk-in-training at the Fire Temple.
Personality Edit
He deeply admired Chiriku and aspired to be like him.
Appearance Edit
Ichigen sported a bald head and he also wore the typical ninja monk uniform. He has small black eyes.
Abilities Edit
His young age and unfinished training meant that his skills were still immature.
Akatsuki Suppression Mission Edit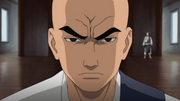 Ichigen warned Chiriku of the intruding Akatsuki members Kakuzu and Hidan. He is presumed to be dead since he isn't identified as one of the three known monk survivors in the temple attack.
References Edit
↑ Third Databook, page 189